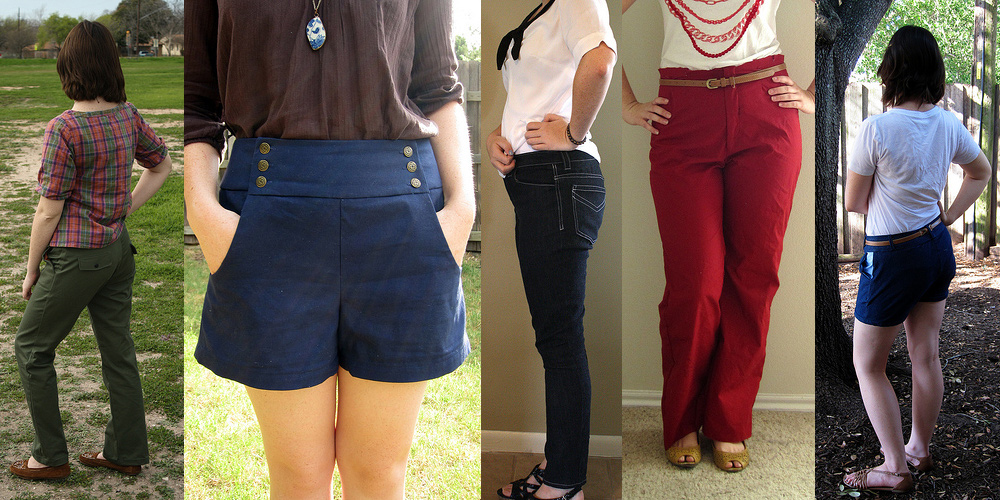 Decoding the Derriere, or, have you read the word "crotch" enough today?
Here's something you may not know – Google scours the internet reading key words on websites to decide how important and relevant that website is in search results. If you have too many no-no words Google might confuse your site with say, a p*rn site. So if you notice that I use a lot of euphemisms for your backside – it's not that I can't bring myself to say certain words – it's just that I don't want to upset the Google gods!
Ok! Back to our regularly scheduled program.
Ever since Colette launched their Clover pants pattern it seems that the sewing blogosphere has been gaga over making pants with an equal number of successes and failures along the way. I'm no exception although I feel like I've had more failures than not.
Every body is different but while bodices and skirts seem to be relatively simple to fit, pants are tricky. And the main struggles revolve around the crotch line – depth, inseam, length, curve, etc.
I've made three pairs of shorts and three pairs of pants (and one pants muslin) in my sewing career with varying results. I've noticed that the looser the pants/shorts the easier they are to fit and the shape of the crotch line is a big deal.
I've taken it upon myself to research and compare a bunch of pants patterns with my own RTW pants and the differences, to me, are mind blowing! Maybe this can be eye opening to others facing a similar problem.
Here are a bunch of patterns all from different companies. From left to right – Butterick 5682, Simplicity 3850 (which I showed you yesterday), Kiwk Sew 3854 (these shorts), New Look 6100, McCall's 6405, and Colette Clovers. Click on the pics for a bigger view.
Now here are two pairs of my fave skinny jeans and the last is a pair of wide leg, mid rise jeans. I traced the back crotch line. These are Gap and some other random company.
And now here are all the crotch lines together. The black line is a composite of my jeans (they were nearly identical).
See how different each one is? No wonder it is hard to find a good fitting pants pattern!
And a bigger problem for me – some of these patterns dip too far back to even let out the back seam for a good fit. The J shape in both the Colette and Butterick patterns are way too deep for my behind. Now I know that if I sew up the Clovers as is I'll have a big blob of extra fabric under my bum. That also explains why I had some major backside problems with the Butterick pattern before.
You have to remember that some of these patterns have back darts and others have yokes so that changes the waist lines. The curve at the center back waist on the Simplicity pants is so sharp because the only shaping comes in the side and back seams.
When you take into consideration the darts in the New Look pattern that crotch line will look a lot more like my RTW jeans. Just by looking the Kwik Sew crotch line seems to match up the best. To make a good fitting pair of skinny jeans I think the Simplicity pants give me the most room to work with in the derriere.
Looking at this I feel like I suddenly understand my problems and what to do to fix them. MIND. BLOWN.
Now I know why the Kwik Sew and Simplicity shorts fit much better than anything else I have tried and hopefully I can save myself some headaches next time!
***Have you tried this comparison? Are you one of the lucky ones to find a good pants pattern that you guard with your life?