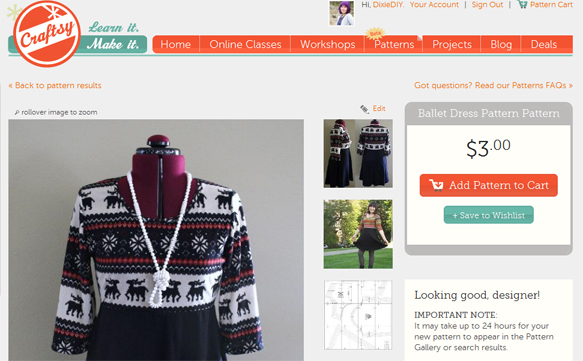 Ballet Dress Pattern Now on Craftsy
Did you know Craftsy.com now has a pattern section? You might have heard about Gertie's Bombshell Dress class on Craftsy before.
Well, I added my Ballet Dress pattern to their catalogue just to try it out. You can still buy the pattern from BigCartel but if you're over on Craftsy already and in the mood for some pattern shopping, well, it's convenient.
I'm thinking about adding some of my free patterns on their site, too, because right now it's mostly overrun with toddler size clothing patterns. I find that to be the case with most collective pattern websites.
But there are a few grown-up related patterns to be had, as well as several free ones! Here are a few of my non-kid pattern faves:
This wrap top from 3 Hours Past is what got me to Craftsy to begin with.
You could make a sleek and silky robe from this designer in Paris, ooh la la!
Or how about this cute knot clutch! I'm really digging this one!
I really like finding new pattern designers and resources and one of my New Years Sewing Resolutions was to use more indie patterns like these.
BTW, has anyone ever taken a Craftsy course? Would you say it's worth the money?