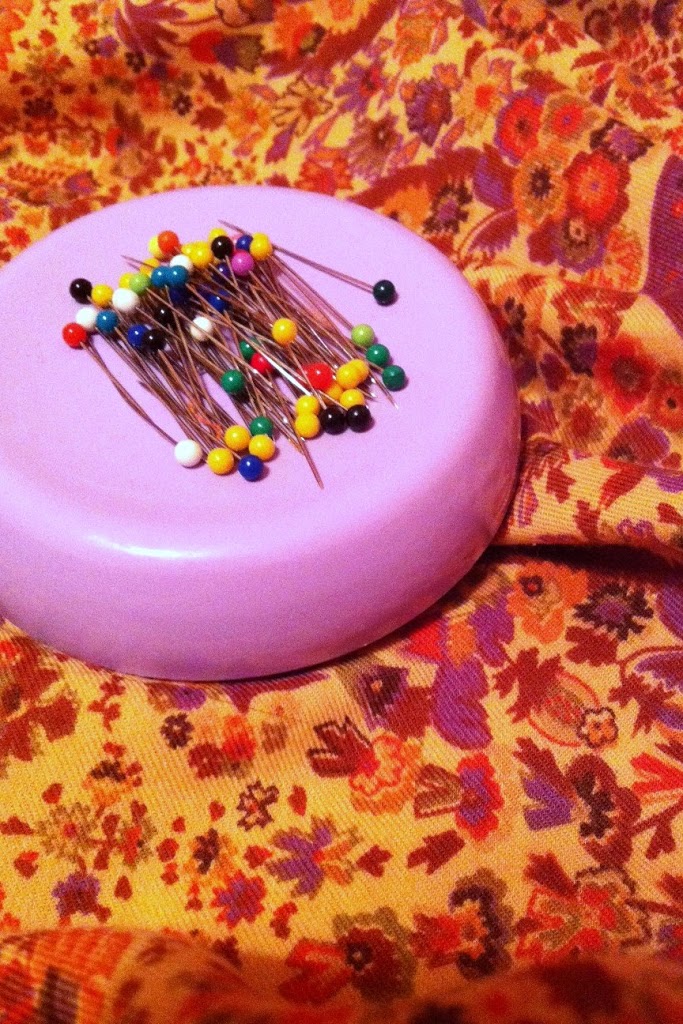 An Exercise in Sewing Skill: Going Pinless!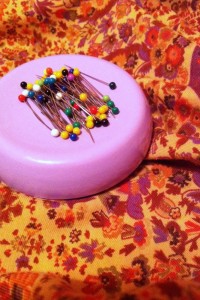 (Pin Nazi says, "No pins for you!!")
I'm doing an experiment as I sew my Darling Ranges dress – sewing without using pins. Most home sewers use pins, at least when first learning. Pinning pattern pieces to fabric to cut and pinning fabric to fabric before going under the presser foot, you know the drill.
But really good sewers or professional sample makers/factory workers don't use pins when stitching – they just line their pieces up and use their hands to keep everything in place. Obviously this saves time – no putting in and taking out pins. And using pattern weights and a rotary cutter for cutting out pieces can be a time saver, too.
But here's my fear – what if I mess up if I go without pins? What if my fabric gets all tangled or the top layer gets longer than the bottom by the end of the seam? What if it's a complicated convex on concave curve? How do I keep it all straight?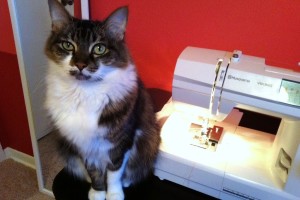 (Peanut guards my machine when I'm not using it.)
In sewing this dress I thought it might be a good chance to try out going pinless. It's a lot of straight lines and few curves.
Turns out, it's not so bad! At least on the straights. I only used pins as place markers (like side seams when attaching skirt to bodice), not to hold everything together.
Things got tricky at the armholes. Do the pros even sew set in sleeves sans pins? Because that was pretty hard. I admit, I resorted to pins.
For hems I was pretty proud of myself. I pressed and measured my hems but no pinning! Even on the sleeves!
On the neckline, which uses bias tape as a facing, I did alright at first but when I discovered a slight problem and had to re-do the whole neckline I gave in and used pins as it was easier.
All I have left on the dress now are buttons and buttonholes – no real need for pins there.


Verdict: The pros might be on to something with this no pinning thing. I may have broken my pinning addiction, at least for straight lines. I could definitely tell a difference in my sewing time with pinning vs. pinless. Even though I sewed slower and with more concentration without the pins (because I was afraid I'd miss-align the layers) I still completed a huge chunk of the dress in faster time than what it would have taken with pins. Imagine how much faster I could be with more practice?
***Now, I can't be the only sewer still dependent on pins. Do you sew with or without? Have you ever tried sewing completely pinless? Have you been without pins for years? I tend to view pinless sewers as highly skilled craftspeople with whom I could never compete… maybe I'm wrong?? I want your input!