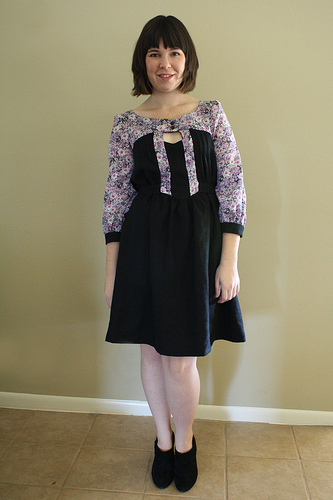 Victory Patterns Anouk Dress
This is Anouk! I love that name. Seems very European.
I was smitten with the new Victory Patterns and their line of classy modern designs. They sell PDFs only which is nice if you're impatient like me and don't like to wait for the mail.
I bought three patterns at once because they had a discount on their Etsy page.
The first one I tried was Anouk, a pretty dress with lots of fabric combo possibilities. This dress also fit some of my New Year's Sewing Resolutions (which I'll talk more about later) including making more clothes with longer sleeves and more dresses, both of which are lacking in my wardrobe.
This dress is combines both Version 1 and 2 of the pattern. I made the dress but added the sleeves from the tunic version. I also made the sleeves and yoke from the same fabric.
The black is a 50/50 linen/rayon blend and the floral is leftover from a dress I made as a gift and is 100% rayon.
I love the design with the pintucks, tie belt, peep opening, buttons and front placket. Justin said this dress reminded him of some German drindl style dress which I kind of agree with. It certainly looks much different than Victory's examples just because of my fabric choices.
I haven't found any other reviews for Victory Patterns yet so I'll add a little bit more technical information.
The pattern pieces were well labeled with all the necesary markings. The instructions were good, too. Most steps had pictures or illustrations and while sometimes I did get a little overwhelmed by the directions (there are so many pieces and details that the directions are pretty long) but I could figure most everything out from pictures. Victory labels this design as intermediate which I would agree with. There are more pieces than a beginner would want to tackle but assembling the dress is pretty logical.
I had a question about one thing during the sewing process and emailed Victory's owner, Kristiann, and she got back to me quickly. Yay for customer service!
If you use a lightweight fabric in the yoke or placket I'd recommend to maybe add some interfacing (the pattern mentions that interfacing is optional in some places, I only added it to the cuffs). While I lined those parts with the linen, the rayon in the center front opening pulls a little to the side.
I cut a size 8 and it fits perfect. The only muslin-ing I did was to make the yoke, just to test the armhole and bust size since the waist and hip area are open. I'm a b cup, maybe a c on a good day and the dress fits perfect in that area. I'm sure there are some people who are wanting to try out Victory but are wondering if they need to do an FBA.
I love this dress! So easy to wear but I still feel pretty and put together. It's not too short and the tie belt makes it adjustable and comfortable.
I wanted to finish this dress earlier but unexpectedly ran out of black thread, ugh!
I'd like to try the tunic version sometime. The design is unique but depending on your fabrics this style is so adaptable.
I think I'm going to try the Lola pattern next but I have to find the perfect fabric for it!