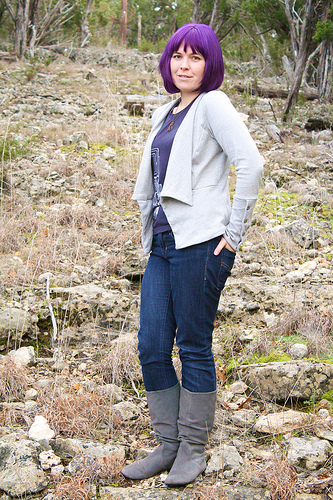 Self Drafted Sweatshirt Jacket, or In Other News, I now have Purple Hair
I made this jacket partially as a contributor challenge on the Sew Weekly (in case you haven't heard yet, the Sew Weekly has opened up the floodgates and is allowing anyone to contribute a project for each weekly challenge!) but also because from my Closet Catalogue I knew I needed (and wanted) more jackets! So excuse me is much of this post is taken from my Sew Weekly post.
This jacket was originally inspired by a stylish friend's heather knit jacket but it has since morphed into something else entirely.
I began with a sketch, started piecing bits together here and there and kind of making it up as I went along. I changed pieces in places in mid sewing – like the angle of the lower pieces on the front. Since I really didn't know what I was doing I made several mistakes, especially in trying to figure out how to put in those darn pockets. This all resulted in much hand sewing!
The extra long cuffs along with extra buttons were made out of necessity. See, I had a bunch of this sweatshirt material deep in my stash but I had very few big sections. Luckily I also had a failed dress and a shirt that I had previously made with this fabric so with everything together I had enough to cut out all the necessary pieces.
I didn't have any piece long enough for a full sleeve so I chopped off the quarter length sleeves from the old shirt and added these  long cuffs.
The body of the jacket itself has princess seams with sections at the bottom that have pockets hidden into the seam.
Since the knit fabric was so bulky I couldn't for the life of me get my automatic buttonhole foot to work! It ended up stretching the fabric instead of moving it so I had to use a regular foot and manually make all 8 buttonholes. After all that work I just made the buttons on the pockets decorative. 😉
And in other news – I have purple hair! I thought that might be something fun to do this year. I probably won't have it purple for too long so I want to enjoy it while I can.
And in other other news – I just wanted to say how much I appreciate all you readers who have been coming to my blog or following. I don't always get the chance to respond to every comment but I want you to know I do read them and often I visit your blogs, too, even if I don't get the chance to regularly share the comment love at your place. Anyone with a blog reader list, even one that is relatively small, knows how fast that reader can explode with posts (I can never seem to catch up!) so know, that even if I don't comment often I do follow a lot of your blogs and read regularly. And thanks for reading here, too.