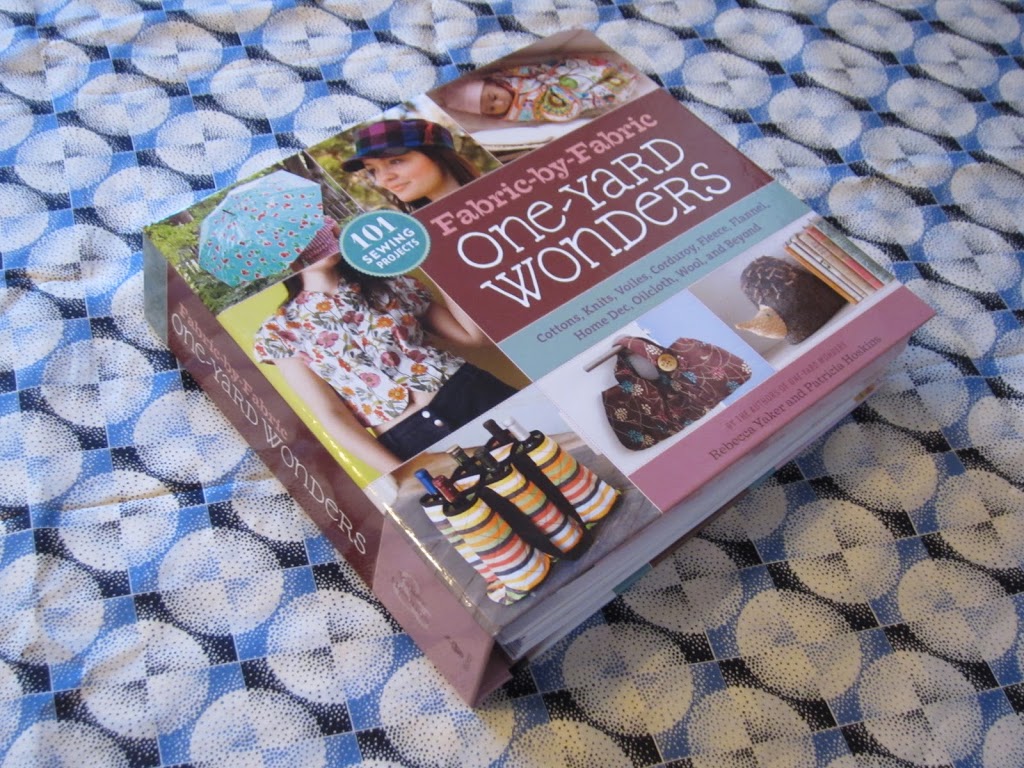 One Yard Wonders: Fabric by Fabric – Book Review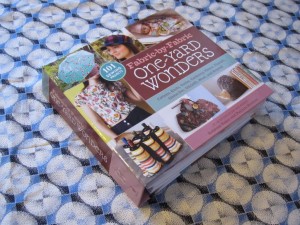 We got this new One Yard Wonders book in stock at the store a couple weeks ago. At first I thought it was just an updated version of the original book but then I took a closer look. I finally decided to buy it because so many of the projects piqued my interest.
This new book is in the same vein as the old one – 101 projects all using just one yard of fabric (plus other notions like buttons, zippers, interfacing, of course). This book is different not only because it includes projects for 9 types of fabric but also because it's so thick!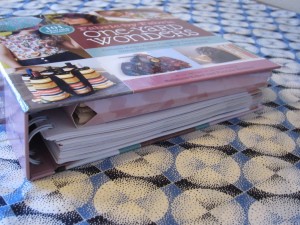 Look! The patterns make up practically half the book size!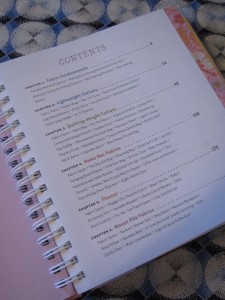 I like that the book offers so many fabric options because quilting cottons can get boring and with this variety I can utilize more of my stash.
The spiral binding helps make the book stay open – a must for a craft book!
The book also includes introductory sewing basics near the front along with helpful descriptions, recommended needle sizes and tips for sewing each fabric type in the beginning of every section.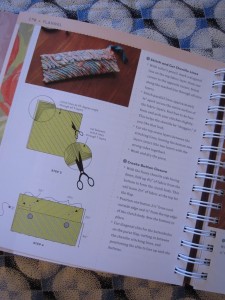 (Shaggy Chic Chenille Clutch)
The instructions are clear, like the last book, and often feature helpful illustrations.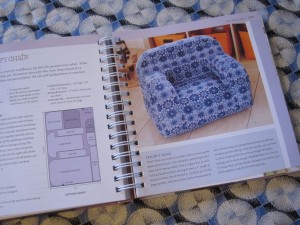 (Kid's Comfy Chair – yes you can make a chair with one yard! Wow!)
As for projects its a nice mix of clothing, bags, accessories, home dec, gifts, utilitarian, toys, kids and baby items.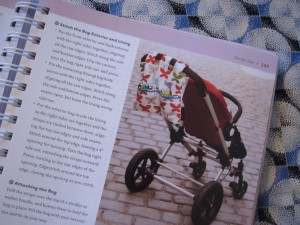 However, if you don't have kids like me you should know that there are at least 26 projects specifically designed for kids, babies or parents. That's a quarter of the book! Something to keep in mind if you don't have any little ones to sew for.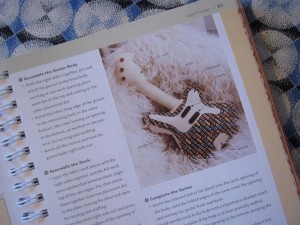 Although if you do have kids there are quite a few projects that can work for boys (yay!) but most of the clothing projects are for girls.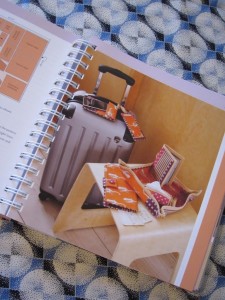 The difficulty ranges from beginner to advanced beginner or intermediate.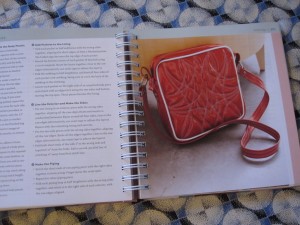 Many projects are quite useful that could apply to anyone. And with all the aprons, pillows and bag possibilities you could easily make gifts for everyone you know! This book would make a great gift itself to someone learning to sew or who likes craft sewing.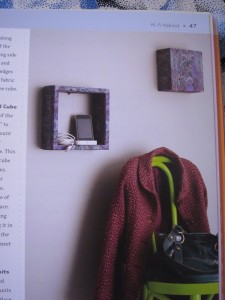 Some projects are questionable, though. Like these wall mounted iPod player and speaker set. The fabric covered boxes are supposed to conceal speakers but how do you conceal the wires??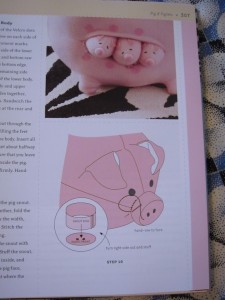 (Pig and Piglets)
Or this stuffed pig that gives birth to it's pigglets from a zipper pouch in her stomach. That just gives me the creeps for some reason.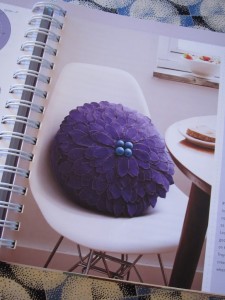 My top project picks that are going on my to-do list:
Petal Pillow
Shaken, Not Stirred Martini Shade (basically a roman shade – I really need to make one for my craft room)
Shaggy Chic Chenille Clutch
Airliner Bag
Farmer's Market Tote (a nice multi pocket grocery bag)
Scruffle Scarf
Oranizer Wallet
Urban Wabbit Hunting Cap
"Work in comfort" neck pillow (great for plane trips or long car rides!)
Under the Sink Cleaning Stash
Breezy Kite (Perfect for Kite Day!)
Smart Girl's Set Sunglasses Case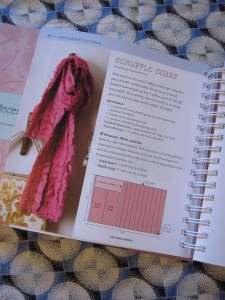 I usually don't buy crafty sewing books but this one inspired me so much and I've already started on one project! If you feel like deviating from garment sewing I highly recommend this book!