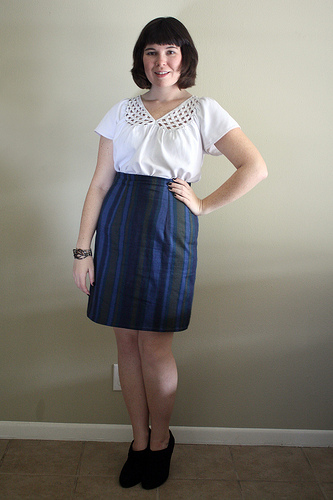 Striped Pencil Skirt – Butterick 5466
Finally – clothes for grown ups – aka, me. I'm still working on my quilt but the rest of my handmade Christmas gifts are finished meaning I'm free to work on clothes for myself again, starting with this very versatile pencil skirt.
I had this pattern (Butterick 5466) in my stash for a long time but never used it. I must have bought it on super sale and wanted to stock up on basic patterns.
The fabric is a striped, soft twill that I got for free at a fabric swap (score!). I almost passed it up but I'm glad I didn't. What's great was that the former owner had serged the raw edges so I cut my pieces to match the bottom to the serged part to take one extra step out of the hemming process.
The interfacing for the waist facing was already in my stash and the only thing I bought was the zipper. All together this skirt only cost me about $3. Sweet!
I originally cut a size 12 but then worried it would be too small so I restitched my seam allowances smaller and it fits perfectly! As in it skims my curves, doesn't pinch, doesn't ride up or down and doesn't even give me that annoying tummy pooch look. You know what I'm talking about – when a pencil skirt is too tight that instead of laying flat over your front it pulls under your stomach making you look round. I hate that!
That's what I like about this pattern (I made version E) – there are so many seams and darts that is it easy to make adjustments for fitting. The only major change I made was to make the skirt a few inches shorter. Next time I'll probably add pockets.
I'm even proud of myself for making the inside all nice and purdy – something I don't always take the time to do. I serged all my seams, covered my zipper with my waist facing, tacked my waist facing to my inside seams so it wouldn't flop out and twin needled my hem. Yes, I just used twin needle as a verb.
And it is also great because I was in need of a good pencil skirt in my wardrobe. I don't think I've been quite so smitten with a project in a long while, and it was so easy!
Oh, and stay tuned! Coming up this week I'm having a little shoe makeover diy, a tour of my craft room and *drum roll* the start of my new series, Never Fear Knits, all culminating in the release of my Ballet Dress pattern and sew-a-long! Get excited! 'Cause I am!