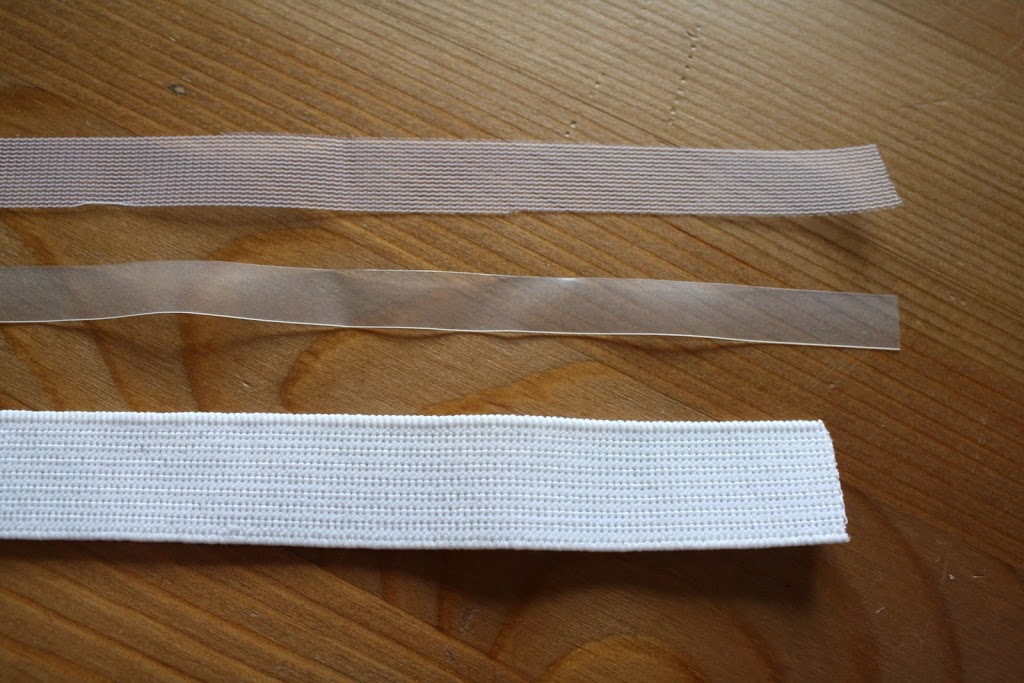 Never Fear Knits Pt 6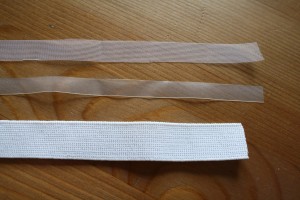 (top: stay tape, middle: clear elastic, bottom: regular elastic)
Thanks for following along with the series so far! Today we're talking support systems – stabilizers, elastic, interfacing, etc. To recap, you can read all the Never Fear Knits posts here.
Interfacing
Occasionally you'll come across a knit pattern that requires interfacing – think wide waistbands on jersey dresses. Yes, they do make knit interfacing and yes, it does stretch.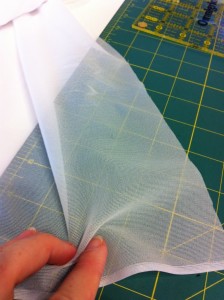 You'll find it in the store mixed in with the rest of the interfacings. The knit kind resembles tulle, I think. Tiny threads weaved with space between. The side that's a little shiny is the side with the adhesive. Knit interfacing gives support but still allows for a minor amount of stretch.
Stay Tape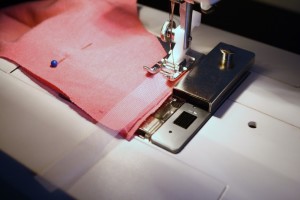 Even though knits stretch there are certain parts of knit garments that you don't want to stretch out – like shoulder seams. You can stitch some clear elastic the length of the shoulder into the seam or you can use one of my favorite notions – stay tape. It looks like a small weaved net that comes on a roll and will stabilize your seam. Just feed it into your machine, on top of the fabric, as you sew leaving about an inch extending at either end that you trim when finished.
Elastic
For waists of dresses you'll probably need some elastic to maintain the shape. Clear elastic is often used with knits but you can also use regular.
If you want the waistband to lay flat you'll cut your elastic the length of the waist measurement of the dress. That way, the dress will stretch as you put it on but when you wear it the elastic will keep that waist nice and fitted.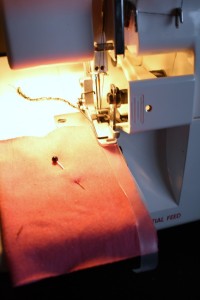 Like with Stay Tape you lay the elastic on top of the fabric as you feed it under the presser foot. This time I've sewn it on the serger.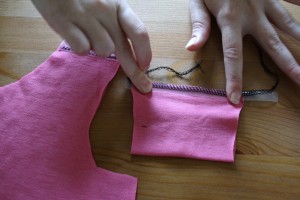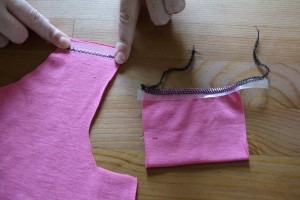 As you can see from the above pictures – the elastic (right) stretches while the stay tape (left) is firm.
Sewing Stabilizers
Sulky makes a tear away stabilizer that you stitch right on to your fabric. I've never had to use it but it could be helpful to beginners. So if you're having trouble sewing an especially tricky knit, this might help!
***Phew, almost done! Tomorrow we'll go over a list of possible trouble spots when sewing knits and what to do to avoid them. I'll even add a couple places I like to buy knits as well as some extra resources for knit sewing.
After that I'll release the new pattern and gear up for the sew-a-long where we can put all of this usefulness into action!