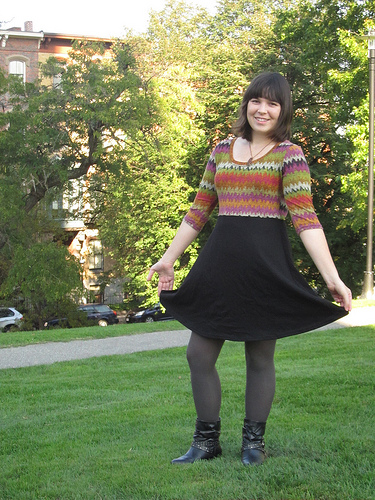 Never Fear Knits – Part 1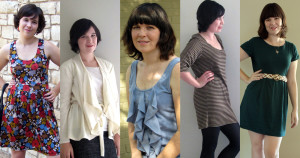 (past projects using knits)
I love sewing with knits! Ever since I took the plunge and learned how to use my serger some of my favorite garments I've made have been knits.
And it's no wonder – knits make up such a huge part of the modern woman's wardrobe and if you think about some of your most comfortable clothes they're probably knits! Cozy cardigans, loungy yoga pants, hoodie jackets and your favorite t-shirt are wardrobe staples.
Yet many beginning or even intermediate sewers haven't worked with knits and may not know much about them. Some sewers are scared of working with this stretchy fabric and others have tried but ran into problems that made them give up.
Sure, knit fabrics in stores aren't as plentiful as quilting cottons and denim but sewing with them can be fun and easy (and not to mention quick!).
Knits are forgiving to wear and easy to sew because most patterns don't require darts, facings, zippers or exacting fits.
So I'm starting this new series I like to call Never Fear Knits to cover all the basics and offer some tips and tricks to sewing knits fabrics.
The series will cover these topics in separate posts:
What are knits and how do they differ from wovens?
Fiber and fabric types and picking patterns for knits
Tools of the trade
How to sew knits
Stabilizers and how to use them
Do's, Don't's and troubleshooting with examples of problems and how to fix them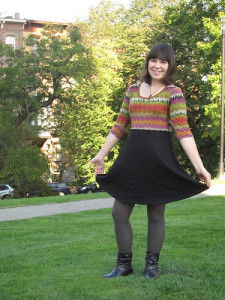 At the end I'll release the new downloadable pattern for my Ballet Dress and host a sew-a-long so you can apply everything you've learned so far.
So follow along, even if you're proficient in knit sewing you can still have fun sewing the new pattern or help others who want to learn some new techniques.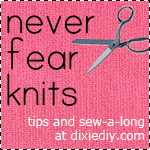 Add a button to your blog if you want.
The first post of the series starts tomorrow!