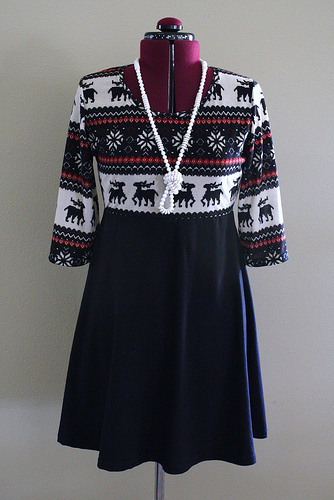 Never Fear Knits Ballet Dress Sew-a-long Pt 4
Almost finished! All we have to do now is attach the collar and hem the sleeves and skirt.
Fold the collar piece in half matching up the short ends and stitch across.
Now fold the collar in half long ways and iron/pin together.
With right sides together, match the collar seam to the center back of the neck opening. Then match the center front.
I know that the collar piece is smaller than the neck opening but that's important. The collar helps prevent the neck opening from stretching out. If the collar piece was too large you'd get gaping around the neckline. No bueno!
Evenly stretch the collar to fit the neck opening and use lots of pins to distribute the fabric.
Stitch the collar to the neckline, stretching the collar just enough to fit the neck opening.
Now we have to stitch that collar down so that the seam allowance doesn't flop out.
Iron the collar with the seam allowances pointed down onto the bodice fabric.
Using a twin needle or zig zag stitch sew all the way around the neck opening encasing the seam allowance underneath.
Now for the easy part – hemming. The pattern includes 3/4″ for hem allowance.
I'm using my fave technique – serging the raw edge, folding under and top stitching with a twin needle.
If you are using a zig zag stitch just fold the hem under twice, encasing the raw edge and stitch on top.
If you are using a twin needle you'll have to sew from the right side rather than the wrong side. I first measure my 3/4″ hem and fold it under and pin. Once I finish all the way around I then transfer my pins to the right side so I can pull them out easily as I sew.
From the right side you can't see the edge folded underneath but you can feel it with your fingers and and guide it under the needle.
Voila! All done! Now you have an easy to wear, comfy but stylish knit dress that you made. I hope the sew-a-long was helpful!
I'll be back tomorrow with my regularly scheduled broadcast aka – more new projects. I'm also making a list of sewing goals for the new year that I hope to share, but first I'm going to wear my new dress!