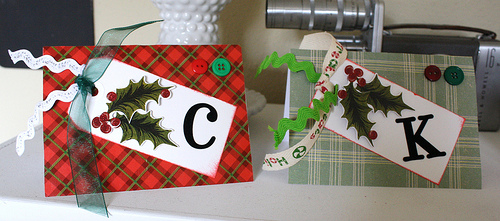 Gift Wrap Scraps
If you're like me then you hoard even the smallest bits of leftover gift wrap because some day, some time you know you'll need them for all those super tiny boxed gifts you're going to give (only I never have small boxed gifts! ugh!).
Here's another way to use up those scrap pieces instead of dumping them into the recycle bin.
Use them as background for Christmas cards! I made these cards to resemble wrapped gifts with tags. Inside they'll hold gift cards. And since gift wrap is already holiday themed you don't have to buy fancy Christmas card stock.
I think the last day in the US to mail cards for on time delivery is tomorrow so if you need a quick last minute card (I'm raising my hand!) grab your gift wrap supplies and make one!
***I'm leaving town soon but I'll be back next Monday to start the Sew-a-long! So grab your PDF pattern while you can!