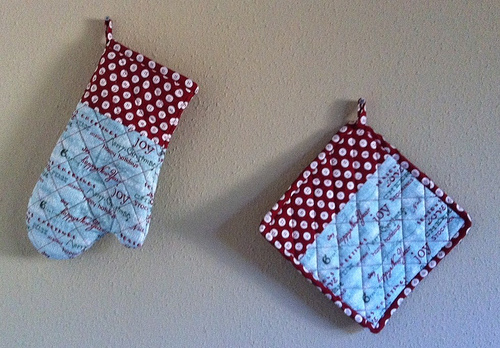 One Yard Wonders Oven Mitt and Hot Pad
I have finished quite a few present for this Christmas but they've all been pretty easy. I still have a bunch of projects in the halfway or not-even-started stage. I'm a little nervous that I won't finish everything because it's so much work.
This gift set was fairly simple. I used the mitt pattern from the One Yard Wonders book paired with some Christmas themed Alexander Henry fabric I got from the store where I intern. I'm giving them to my friend before Christmas so she can have some time to display them.
Miss P offers a great idea on her blog on how to make your own perfectly measured bias tape with masking tape and I took that same concept to make my quilt line guides.
One snag in the project – my seemingly thick batting smooshed down so thin when I quilted my fabric so I had to double it up. I made the mitt first so my fabric had already been quilted with the top fabric, then batting, then inside fabric. So because I'm lazy, rather than add the extra layer of batting and re-quilt it. I just cut another layer of batting and inside red fabric and layered them inside without quilting. It works. 😉
I was also too lazy to change my serger thread, too, I just realized. Gosh, I'm a terrible gift maker. Haha!
I made the bias binding from the red button fabric.
What a fun and an easy way to show off cute fabric and trims! Making holiday themed decor is really getting me in the mood for Christmas.
Are you doing any holiday crafts this year?