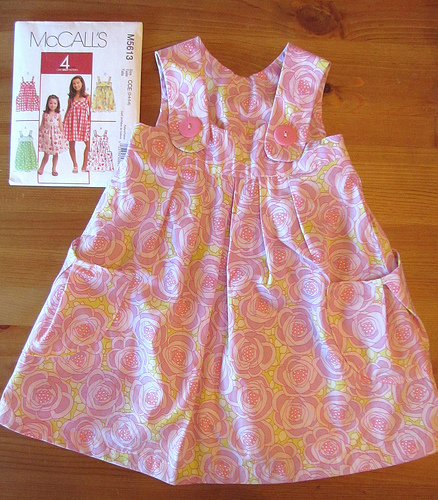 Finally Finished – McCall's 5613
Alright, so it's not even December yet but I already feel a overwhelmed with my challenge of handmaking most of my Christmas presents this year. Luckily I finished my last of three little girl's dresses, one for each of my cousins. You can see the other two here and here.
This dress was made from McCall's 5613, version D. I liked that it can be worn in the hot Texas weather or with a sweater or shirt underneath for colder days.
The pink and yellowish-green fabric was a remnant from the store I intern with and the buttons were from a multi size pack I bought at Joann. I had a hard time finding the right color buttons.
Oh, and you know what's annoying? When you buttons are too big to fit in your button hole maker foot. Oh, well. I made it work.
I really think it is a pretty cute dress and I'm sure my little girly-girl cousin will love the flowers and pink (she's 2 and 1/2).
But phew, I'm glad to be done with other people's clothes. I never realized how much I'd worry and fret over if I made the right size and I have no way to tell.
While these dresses are adorable I'm glad to be getting back into making clothes for myself. I'm halfway finished with a pencil skirt right now and I'm almost ready to launch my knits lessons and sew-a-long!
Now if only I could finish that darn monster quilt…