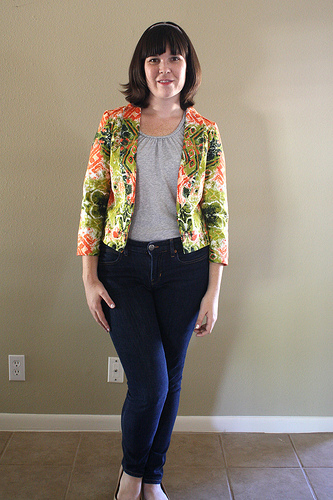 Rorschach Blazer
I may have a contender for the prize of craziest fabric ever sewn. I don't know what compelled me to buy this fabric. I think I found it at Hancock Fabrics although I bought it sometime in July and now I can't remember very well where it is from. I do know that I was smitten immediately and at the time I wanted to make a printed blazer and thought this would do the trick.
It is a medium weight twill with a green and orange on white print that reminds me of a Rorschach test. Pretty wild!
I made the jacket using a blend of two patterns: Simplicity 2250 (I made a denim version last April) and Simplicity 2340 (for the curved collar on version C, which I realize is difficult to see in these photos, sorry!).
The 2340 jacket design was a little too boxy for me and I love the more curvy shape of 2250.
Basically, I layered the front pattern piece of 2340 over the front piece of 2250 and matched up the shoulder seams. I also shortened the overall length by about 4 inches to make it more wearable with different outfits.
The jacket isn't lined because it never gets extremely cold here in Texas so I wanted to get some wear out of it in the warmer months as well as fall/winter. That's also convenient because both patterns I used aren't lined either (well, version C is lined but it is a vest not a full jacket) and I'm too lazy to make my own lining, ha!