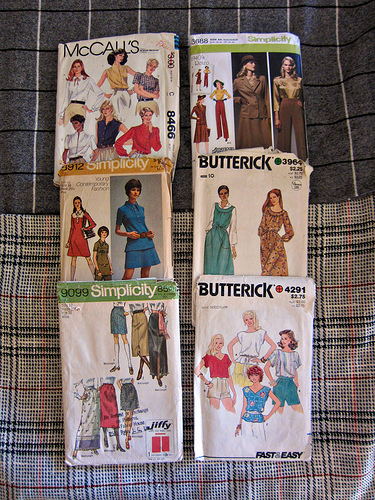 Estate Sales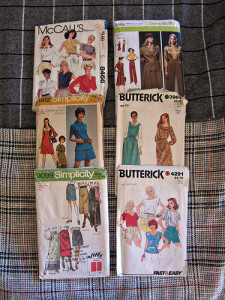 Like most sewers I have dreams of stumbling upon the estate sale of some master seamstress with boat loads of vintage fabric, notions and patterns and then pack up the back of my car to the brim with supplies all for one crumpled twenty dollar bill.
Yeah, that hasn't happened to me. I've been to a handful of estate sales and walked out with zip and while I don't always look out for sweet estate sales I did this weekend. I drove out to one that looked promising and while it wasn't amazing I did walk out with some loot.
Since it was the last day of the sale I got the fabric for half off. Both are wool that I plan on using for coat making.
The patterns at the sale were mostly from the 70s and 80s. There were only a few 60s pattern. Maybe there were more and someone beat me to them?
The two on the lower left side are fun 70s patterns and the skirt is a really classic style. The one on the upper right is a recent retro reprint pattern that I bought because it was brand new and never cut. The others are 80s patterns with styles that are still pretty contemporary.
What's your best crafty estate sale score?