Ballet Dress
This is my "I'm proud of myself for doing this right on the first try" pose.
This dress was traced and slightly altered from an existing dress I own. I call it the Ballet Dress mainly because it reminds me of a dress that a ballerina would practice in.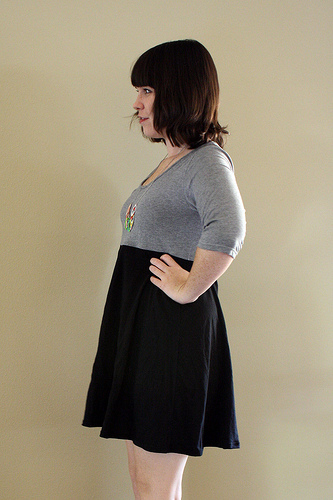 It's got a scoop neck, three quarter length sleeves, a semi-circle skirt and a slightly higher than normal waist. The perfect little jersey knit dress to run around town in.
This was originally intended to be just a test run but it turned out good enough to wear so that makes me very happy indeed!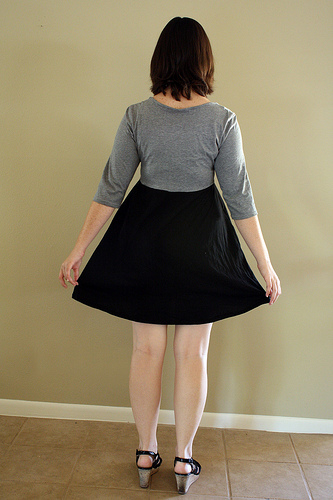 That doesn't mean it's perfect. Here are a few changed I'll make next time:
Tighten the sleeves a little
Maybe lengthen the skirt by a couple inches
Make the neck binding smaller – it is a little baggy in the back but I wasn't trying my best to fit the binding because I wasn't taking this dress very seriously at the time.
Give it a normal waistline rather than a slightly higher one
Iron the dress before taking pictures 😉
Since this dress was supposed to be a tester I made the top with a heather gray and then because I didn't have enough gray left I made the skirt in plain black.
The great part about this dress is that it is so simple. I can easily make small changes to my pattern pieces and because of its simplicity it is a great canvas for awesome fabric. I plan on making a bunch of cute sweater dresses this winter.