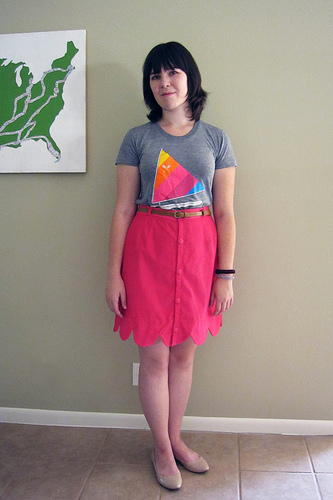 Pink Scalloped Skirt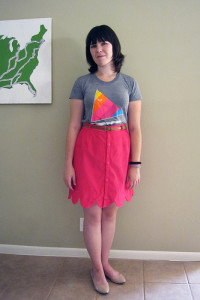 (Hey look! I'm back from Chicago!)
I'm quite smitten with this skirt. I made it by altering a basic skirt pattern that I used as a pattern block to create this kind of a-line shape skirt with darts on the front and back and buttons down the front.
I used corduroy (I was originally looking for a twill of some sort) because I couldn't find anything else in the color I wanted.
I'd like to say this skirt is coral but I couldn't find any true coral colored fabric so I have to admit, it's pink. But I think it's still a really fun pink!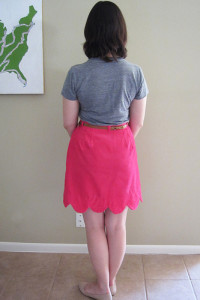 If you've never worked with corduroy before, let me warn you, it frays. A lot. but I loved the finished product.
I even added little belt loops, a waistband and fabric covered buttons (I think those are my favorite part).
For the scallops I used a dish lid and evenly spaced the circles. Then I cut a facing copy which I stitched to the body of the skirt with a blind hem.
Originally I planned on printing out this pattern from BurdaStyle but Justin moved the printer and I couldn't find it so I was like "Whatevzzzz" and whipped out my scissors and ruler and made a similar design. I certainly don't want to imply that I came up with this idea on my own.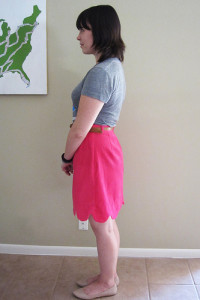 This Scallop Skirt pattern is a great alternative if you don't want to go through the trouble to do this from scratch. Unfortunately it is only in one size so you may have to grade it up or down yourself. The only major differences in my design are darts instead of gathers and no pockets ('cause I was too lazy to make them).
I wore this skirt in Chicago but I realized I forgot to take a full body picture of me wearing it! Ha!