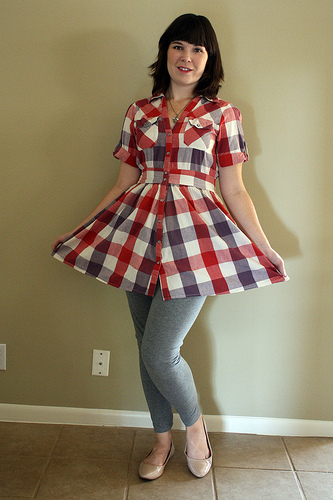 A sewing first: Leggings!
I planned to save this pattern until fall when I thought I'd actually wear leggings (it is 100+ degrees outside right now) but then I decided to wear this dress to Chicago.
The problem with this dress is I bought it online and it is uncomfortably short. I've worn it with skinny jeans before but I don't really like that look so instead I thought I'd whip up some leggings with this huge batch of heather gray jersey I had lying around.
As it turned out, I never even wore that dress in Chicago, ha! Oh, well. But that's ok because the leggings were a little big. The pattern package (McCall's M6173) suggested I make a Large, so naturally I made a Medium but I think I actually should have made a Small (a warning to those who are thinking of using this pattern).
They were pretty baggy around the knees so I sewed up the inseam and the crotch even more to help alleviate that problem.
Would you believe that this is the first pair of leggings I've ever owned? Well, maybe I had some in the 90s when I was six but that's a whole other story…
I won't be able to wear these until at least late October but now I've at last found a reasonable way get this too-short dress out of the closet and back into regular rotation!