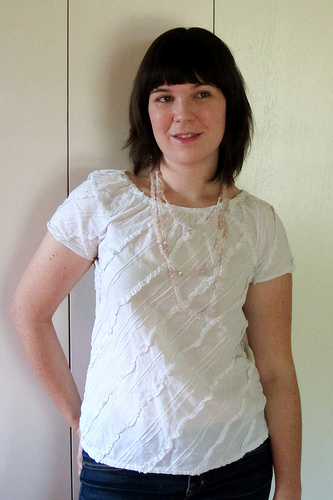 White raglan sleeve top – Simplicity 3835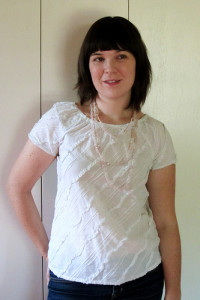 I made this top probably three years ago back when I first started sewing with patterns and was so excited about the Built by Wendy series at Simplicity (which is now all out of print, sad).
I packed this shirt away when moving almost a year ago and haven't seen it until now.
I bought this fabric that already had little ruffles and pin tucks on it (so no, I didn't spend all that time doing it myself!).
The only thing I didn't really like about this pattern was the arms were too tight so I took out the elastic in the arm openings. It's a great raglan sleeve shirt pattern and you could easily adjust it so that the neckline doesn't need elastic.
It's pretty fun to revisit all my old sewing projects again. It's like discovering a new wardrobe.