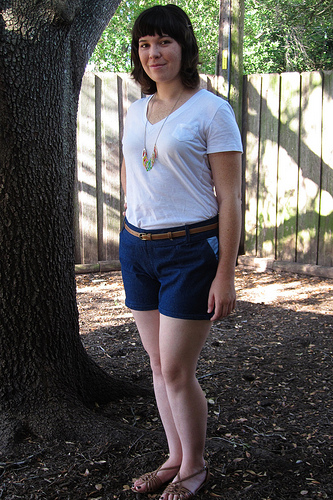 Recycled Denim Shorts
For some strange reason I am loving shorts this summer and can't get enough of 'em.
These shorts utilized the leftover denim from a wrap skirt that I made several years ago but since then deconstructed it and used some fabric to make this skirt.
I think it's pretty cool that I was able to get two garments out of one!
The pattern was altered a bit from Simplicity 3850, an out of print Built by Wendy shorts and pants pattern. It is the same one I used for my first ever pair of shorts.
Changes I made from last time:
I made one size bigger but did some fitting like making the legs a little narrower and changing the crotch seam.
I moved the zipper from the front to the side and made it invisible.
Made the shorts longer. Super short shorty shorts are not my thing.
No pocket flaps on back. The flaps were faux anyway.
Also, you'll notice the inner pocket area is not denim. It's leftover blue shirting that I used to make this failed tunic. I literally had no more pieces of denim big enough to even cover that tiny exposed bit. I even used the original skirt waistband as "bias tape" to wrap the bottom of each leg.
Since I was already using that blue shirting for the inside pockets I used it for that little peep of exposed pocket, too.
If I make them again I think next time I'll make the front waistband higher. Ever since fashion began to gravitate towards low cut waists I think pant manufacturers compensated by bringing up the back of pants to avoid that unwanted coin slot flashing problem.
But then the front really is still low and makes for a really weird tilted side view, in my opinion, almost to the point where it looks like my gut is hanging out the front.
Because of that I doubt I'd wear these shorts with a top tucked in like I am here. This outfit is for photography purposes only. 😉
In the future I'll cut the front waistband more consistent to the height of the back waistband which I think is a better look for me.
I have a really odd urge to make another pair of shorts in a bright color – maybe orange or green. Very summery! Have you ever sewn shorts? Do you even wear shorts? I never wore shorts much at all until last summer.