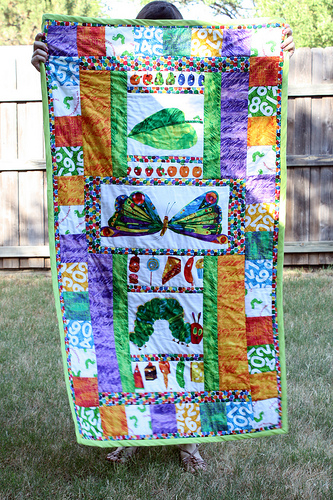 First Baby Quilt
Greta! If you are reading this look away now!
This quilt is a gift and I know the recipient's mother will read this so, Greta, skip this one! Just come back tomorrow or something!
And just in case this pops up in your blog reader here is a cute picture of my cat sitting by my sewing machine to avoid important photos being exposed in the preview.
Phew… that was a close one. On to the important bits!
I finish my quilt! And in a surprisingly short amount of time.
Well, I did start this quilt a few months ago – January to be exact. I gave it a good week of work then stuffed it away until it re-emerged in my new house and I finished it up in about 3 days. Wow! I'm impressed not with myself but with how much easier this process was once I finally knew how to properly put together a quilt.
I made it for Justin's sister's third baby who is due to arrive in about a week!
The quilt measures about 45 in x 6 in, a little smaller than crib size. Perfect for a little boy (or perfect for when he's big enough to run around the house dragging a blanket along with him). And it is "The Very Hungry Caterpillar" themed! One of my favorite books from childhood – and so colorful!
After piecing together the quilt top (I had a few headaches with that – I kept cutting and sewing the wrong lengths) I used Patti the Snug Bug's advice and bought a walking foot. That would have been a good idea had the thing worked properly.
I must have bought a faulty one because the foot kept leaning forwards causing my needle to constantly whack the metal foot. I had to work extra slow or risk breaking a needle (or 5, which did happen) and nothing I tried seemed to fix it. The thing also didn't come with instructions. Super lame.
So, armed with only my needles meant for delicate fabrics, not three quilt layers I finished quilting using a normal foot. I returned that walking foot to the store today.
Then I Googled how to sew binding on corners which helped immensely. Although my binding isn't exactly perfect by any means if you look on the back. It's borderline hot mess material back there but it's the back – no one's looking, right?
I don't know if I'll be tackling any other quilts any time soon but I do feel accomplished that I finished this one.