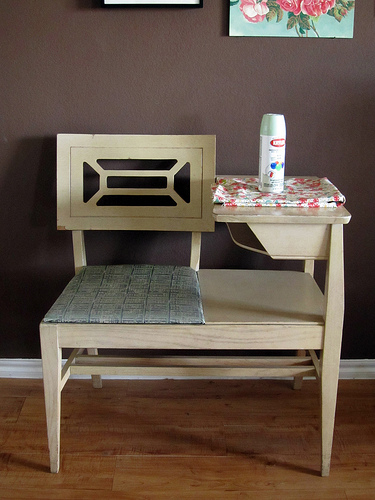 Re-styled Telephone Table
Do you remember this from way back in January?
Well, here's the after:
To recap the story behind this table – Justin bought it for me for a Christmas Present but it was pretty beat up and it needed work. At first I wanted to wait to restyle the table until we bought a house and I could paint outside and not on my cramped balcony. But four months later we still don't have a house (not for lack of trying!) so I just stuck the thing on the balcony and sanded and painted.
What I changed: Painted the whole thing "celery." I was going more for mint but that's what the paint color was called, ha! I used wood filler on some of the big gashes in the wood. And I replaced the entire seat. The wooden seat was cracked in multiple places. Justin was nice enough to cut me a new piece. Then I covered it in foam and fabric.
The color change doesn't look that noticeable in the pictures but it is in real life. The original color was a blond wood but it had so many chunks gouged out of it that I couldn't just sand it down or stain it. Now it is a very pale green color.
For now my little table is sitting by my font door, hopefully to be a mail catcher. You can see more before pictures at the original post. I'm just glad this project if finished! Woohoo!