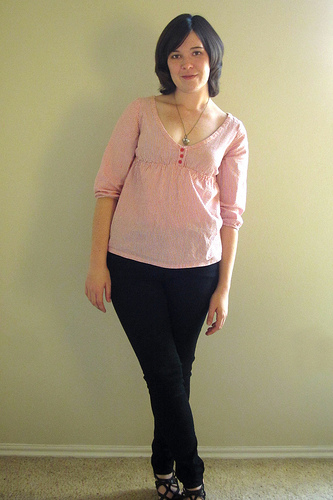 Red Stripe Built By You Top – Simplicity 4111 (out of print)
I bought the pattern (which is now out of print, boo!) several years ago when I went a little wild and crazy with the Built By Wendy Simplicity pattern series. Back then I was bad at following directions, or at least fabric recommendations and this was before I realized I needed to make one size smaller than whatever the pattern suggested. The result of all of that mess was me making this pattern no less that four times.
The first time the shirt ended up too big, the second time the fabric was too stiff and heavy. This is the third attempt I believe but somewhere close to being finished I somehow accidentally clipped the fabric near the buttons and made a tiny hole.
At the time the only way I thought to salvage it was paint the hole with clear nail polish to keep it from fraying and fabric gluing a tiny patch behind it to keep it closed. Ha! You can still see the hole.
Because of that fail I made a fourth version but since then the elastic in one of the sleeves broke and I haven't finished it.
I had forgotten about this shirt until I went through an old plastic bin full of clothes and random things that never got unpacked.
While I love the design in theory it just wasn't working for me. I have that major problem many women have of looking fat and pregnant in empire waist clothes and the top is so low cut I can't imagine anyone with a bust bigger than an A cup fitting in it without needing a tank top underneath. Very precarious situation. Somehow in the four times making this shirt I never learned that I needed to bring up the v-neck and make it narrower at the shoulders as well. I should have lowered the elastic empire waist, too, as it tends to rise up, I guess to compensate for the show a few inches above. At least my sewing technique improved quite a bit by version 3.
The more I pack for my eventual move the more I realize how many of my clothes (that I have made as well as bought) are missing – lost somewhere in my garage. I swear my garage resembles that big warehouse of crates at the end of the Indiana Jones movie!
*****
I'm still chugging away at my muslin for my new dress. I think I've got the collar and front center fixed, still deciding what to do about the sleeves and sleeve cuffs. It's slowly coming together!