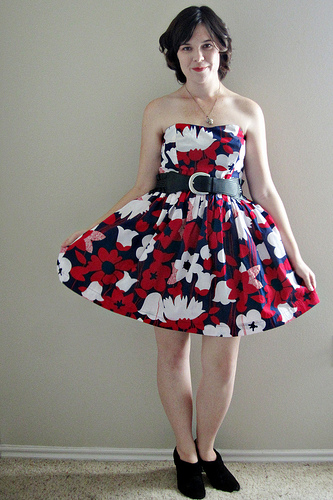 Strapless floral dress – McCall's M5849 (out of print)
I made this dress over a year ago but stuffed it in the back of the closet for a reason I'll tell you later. But that doesn't mean I don't like the dress itself.
The pattern is an out of print Hilary Duff (go figure) McCall's pattern which I really enjoyed. It was the first time I ever attempted a garment that used boning and I liked working with something new. The pattern itself was easy to assemble. It's a simple pattern.
I also liked the gathered waist. With this lightweight cotton all the gathers give the skirt a lot of "poof." It's a good skirt for twirling.
I wore this dress to my friend's birthday party last night mainly because I knew it would be dark. See, the reason why I haven't worn it much was because the color in the fabric bleeds. I don't know why it does this. I bought the fabric at JoAnn, washed it and I can't remember if it was after the first wash or after the next one but the red in the flowers bleeds into the white leaving pink blotches all over the dress. I couldn't have washed it with something else because after this dress I made a blouse and washed that on its own and wound up with the same exact problem.
It doesn't seem that obvious in this picture but when there are splotches like this all over the dress, well, it just looks sloppy. The pink is also more apparent in real life. Is there any sort of way to pinpoint bleach to whiten out the pink spots? Like a bleach pen or something?