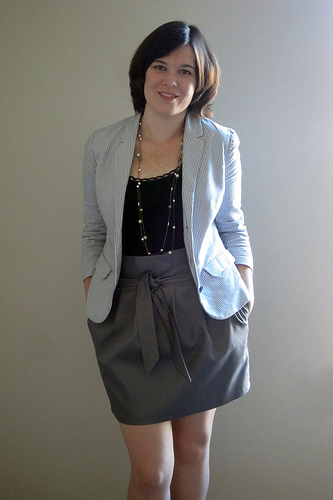 Paper Bag Skirt
This is the first paper bag skirt that I ever made and I must say I really love the style!
I used Simplicity 2413 and it was quite a simple design and didn't take me very long at all to make. I highly recommend that pattern if you're trying to make a paper bag skirt but don't want to make it from scratch. Although if you want to make one all on your own Adventures in Dressmaking has a great tutorial.
As usual I made a size smaller than what my measurements are on the pattern packaging and it is a good thing I did. If I used my true size the skirt would have been way too big. Although with that problem you could just make the pleats bigger to make the waist size smaller. Also, when I sit down the belt tends to slip up so I'll probably add a couple belt loop strings on the skirt later.
The fabric I used was a metallic gray, soft, lightweight, loose denim. You wouldn't think it was denim by the texture and look of it.
I did have a couple mishaps while making it, though, which I should preface with some back-story. These past couple weeks I've been house hunting trying to find a place to buy. It's been really stressful and overwhelming as I try to compromise on what I want and dealing with sellers who don't like negotiating. Sewing has been the only thing lately that gets my mind off home buying and lets me focus on something that makes me happy.
But all this stress has made me extra lazy and not read the directions like I ought to. This patten is pretty self explanatory but I made the mistake of rushing through and sewing on the pockets before I realized this skirt is supposed to have a side zipper. By that point I didn't feel like ripping out the serged pockets to I split the back open and inserted a center back invisible zipper instead.
Also while serging the top edge of the skirt some fabric got caught under the serger knife and cut a hole in the fabric. LUCKILY this part was a section what was folded under and you can't see it but I had a mini freak out thinking I had ruined the skirt there for a second.
Even with some sloppy sewing, in the end the skirt is lovely and looks fantastic and it makes me so happy to be able to do something rewarding while dealing with a tough situation. Anyone else ever feel that way? Even if it's with something other than sewing?