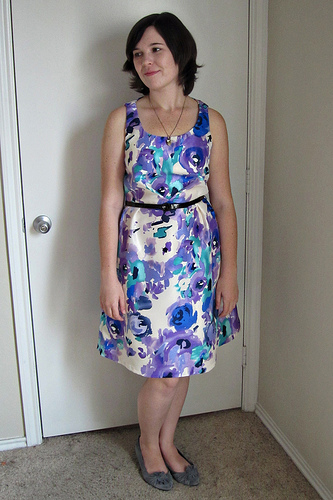 Lisette Copy Dress (based on Simplicity 2209)
I'm having a little ethical dilemma regarding this dress. So let me explain. Simplicity has a new line of patterns called Lisette. One of which includes this dress, a pretty simple design with a pleated a-line skirt, scoop neck and cross over pleats on the bodice at the waist.
Now, I intended to buy the pattern a couple weeks ago when Joann had their $1.99 sale on Simplicity Patterns but for whatever reason I didn't. That sale ended and since I refuse to buy a pattern that isn't on super sale (one of the reasons why 70% of my pattern collection is Simplicity) I wasn't going to buy that pattern.
Instead I just made an inexact replica of it from scratch. I say inexact because I'm sure the actual measurements I made don't match the original but still, it's a copy.
With the pattern envelope drawings as a guide I used a basic bodice sloper I had, moved the front dart and extended it so the pleat overlapped when folded, and attached a skirt sloper that was originally for gathers but instead I made pleats. I even made a little facing inside for the arm and neck openings and a side zip (actually, my first ever invisible side zipper!).
So that's why I'm feeling a little moral ambiguity. I've never straight up copied a pattern design before, though, in many cases I could. This is a sign of my strange laziness – I'm too lazy (or cheap?) to go back to the store and buy the pattern but strangely, not too lazy to make my own pattern and muslin from scratch. Doesn't really make much sense, I know, but this design was so easy to make that I didn't need the pattern.
I feel a little guilty about ripping of a design and not giving Mr. Simplicity CEO my $2 but obviously not enough to not share the dress with you. I think it turned out pretty good! I'm not sure what you'd call this fabric. I bought it at Joann the same time I contemplated buying the pattern but didn't. All I know is that it is shiny on the inside and matte on the outside and it frayed so much I thought I'd pull my hair out. But it had just the right mix of structure and drape for this project.
I guess I can't give much of a review on the pattern itself but the design obviously looks good! What are your thoughts on my devious design plagiarism?