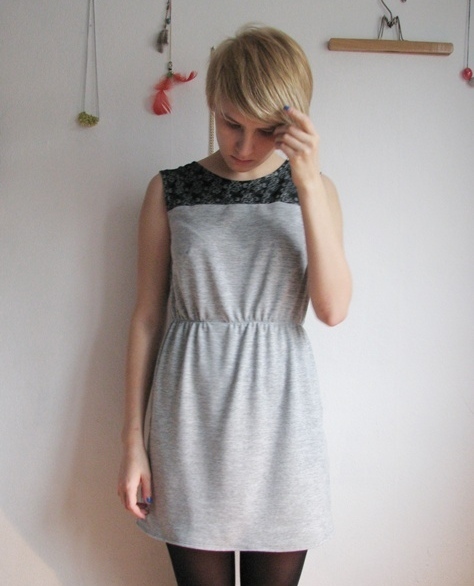 Ideas to use Lace in your Sewing
I posted about my Lace Top T-Shirt a few days ago and it's got me interested in putting lace on everything. I'm debating making a pattern for that top because it seems so easy. I might as well just do a tutorial on it instead. But that would require me having to make another shirt and I don't often do a project twice. Maybe I could make one for someone else?
Or I could try some new ways to incorporate pretty lace into clothing, like these –
I could make it a sleeveless dress with lace over the shoulders like aniomatronika did on BurdaStyle. (This is so cute! And I have a bunch of heather gray jersey lying around and extra lace. I'm really inspired to recreate this.)
Also on BurdaStyle, why not do a pretty lace overlay. I love how the back of pampula's dress is all lace as well.
If you have a dress that is a little to short you could add some thick lace trim at the bottom to add length like this Topshop dress.
If your lace is really delicate and not substantial enough to hold the weight of other fabric you could put pieces on a shirt as an applique like fabricaddict.
I love the idea of solid and lace stripes. You'd probably want to wear a cami underneath this Rue21 shirt.
tiffa34 on BurdaStyle added a lace inset to a V-neck shirt. Cute!
**I'll be back later this week with a new sewing re-style. Turning an old shirt into something new and hopefully better!