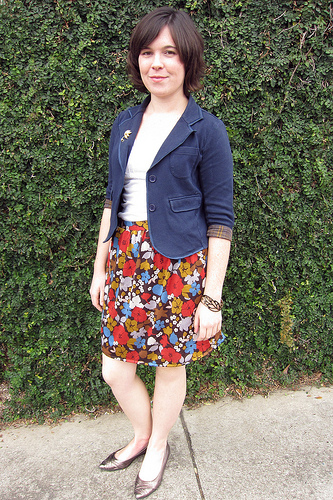 Using Scraps: Elastic Waist Knit Skirt
I had so much fabric left over from making this dress a few months ago that I decided to use the rest to make a skirt!
It is an elastic waist encased in fabric with a gathered skirt. The fabric is a knit rayon jersey. I made this using a serger but you can use a zig zag stitch on your sewing machine and it will work the same.
The look of this skirt is slightly different than other elastic waistband skirts because of the knit fabric. Since knit fabric is stretchy it can stretch with the elastic. Meaning when you're putting on the skirt over your hips the waistband will stretch but when you wear the skirt at your waist the waistband will look smooth and not bunched. You can look at some other skirts I made using woven fabric to see what I mean about a "bunched" waistband.
Important! The stretchiness of your fabric needs to be horizontal, not vertical.
Also, my fabric has a print so it is obvious which is the right side and the wrong side. If you have a solid color fabric is can be easy to confuse the sides, just make sure whichever side you use matches on all your pieces! I've had many projects ruined by this little detail.
Since I used my serger I added 1/4 seam allowance. If you are using a regular sewing machine you may want to have a bigger allowance.
I measured my waist where I wanted the skirt to sit (a few inches below my natural waist), my hips at their fullest, and how long I wanted my skirt to be.
Based on your measurements cut two rectangles for the front and back part of the skirt. The width should be half your hip measurement plus a few inches for ease (I added 4 inch total) plus seam allowances (1/2 inch in my case). The length should be how long you want your skirt to be minus an inch (for the waist band, or more or less depending on the thickness of your elastic) plus seam allowance for the top and however much of a hem you want (I did 1/2 inch). So my rectangles were about 23 inches by 21 inches.
Sew these up the sides so you have a big tube. You can now hem the bottom end.
I used 1 inch elastic for my skirt. For the waistband you can wrap the elastic around where you want the skirt to sit. It should be comfortable but tight enough to stay in place on its own (you don't want a droopy waist!). Because elastic is stretchy you also want the elastic to be shooter than your waist measurement. Add 1/2 inch for overlap and cut. You'll use this extra 1/2 inch to overlap when you sew the two ends of the elastic together.
Cut a rectangle for the waist band (remember, stretchiness horizontal, the skirt fabric should stretch in the same direction as the elastic!) that is as long as your waist measurement plus seam allowance and as thick as two times the width of your elastic plus seam allowance (in my case, 1 inch x 2 + 1/4 inch +1/4 inch = 2 1/2 inches). The waistband fabric ought to be longer than your elastic by a little bit so that the waistband will stretch but will look normal when you wear the skirt.
Note: If you are a curvy girl with a large difference between your waist and your hip measurement you might want to make your waistband fabric longer. Your waistband may look slightly more bunched when you wear the skirt but it is more important that your waistband stretches over your hips. Knit fabric is stretchy but it isn't as stretchy as elastic and you may have to compensate for that.
Wrap your waistband fabric around your elastic and sew the tube closed starting and stopping a few inches away from either end.
Pull your elastic ends out of the tube, overlap them slightly and stitch together.
Now, right sides facing sew the two ends of the waistband fabric together. Now you can stitch up the opening that is left. Your waist band is finished. Is it stretchy?
Using a long stitch, sew a straight stitch all along the top edge of the skirt pieces. Gather the skirt to fit the waistband. Pin and stitch the waistband to the skirt, right sides facing.
And now you are finished! Leave me a comment if you have any questions. I know that is a lot of instructions but really it is much easier to make than it sounds. And the great thing about a knit skirt – it's super comfy!