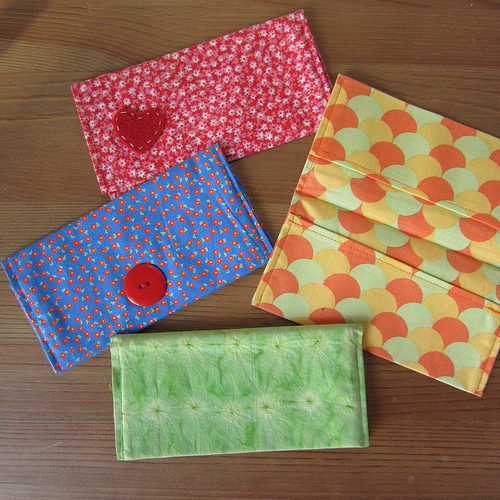 Using Scraps: Checkbook Cover
My boyfriend, Justin, detests checks. He thinks they are an antiquated idea and refuses to use them. So it is no surprise that I am the one who pays all the bills.
Assuming you use checks here's a fun short project to do if you have big enough leftover fabric scraps – checkbook covers!
As you can see, I've made more covers than I can use myself. Maybe I'll give them away as gifts.
To make your own cover first download the PDF pattern. Print out the pattern without scaling and match up the pages along the lines and lettered and numbered notches. Not too complex, only three pieces. Cut each piece out along the solid line. The dashed and dotted lines will help you know where to fold the fabric.
This pattern fits 3in x 6in check booklets. You'll need some interfacing to help your checkbook cover be less bendy.
I designed this pattern with using scrap fabric in mind so this is the absolute minimum amount of fabric you need to make your cover look decent. You could use more fabric if you wanted to make sure the inside looks nice and pretty instead of having exposed interfacing when you look inside those flaps but that's not a big deal for me when I barely have enough fabric to use.
Adhere interfacing according to directions to wrong side of Outside piece, matching center crosses.
On outside piece, fold raw edge of all sides under 1cm (dashed line). On inside piece, fold top and bottom raw edges under 1cm (dashed line). Iron folds.
On outside piece stitch along left and right folded edges, stitch .5 cm or about 1/4 inch from the fold.
Wrong sides facing lay inside piece over outside piece, matching center crosses.
On outside piece fold the left and right sides towards center, right sides facing out, along the dotted lines. There should be a 4cm gap between the folded and stitched edges of the outside piece.
Stitch across top and bottom about .5 cm to 1/4 inch from the edge.
Insert your checks! Slip the front and back pages of your checks under the flaps. You can also add details like ribbon, buttons, appliques, etc. You may want to do that before you start stitching but I carefully added my extras after the whole thing was assembled.
Leave a comment if you need help or have any questions!