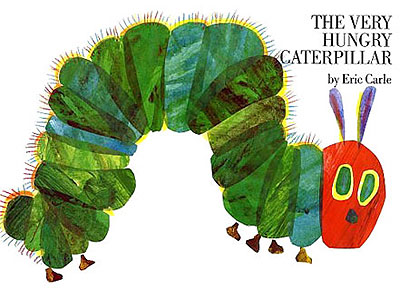 Quilting Adventures
I ordered a bundle of fabric fat from Fat Quarter Shop today to make a quilt for my boyfriend's new nephew due in July. This is Justin's little sister's third baby and I wanted to make something for him that wasn't clothes (hand me downs, anyone?). I thought about making baby shoes but really, baby's don't need shoes for a while and what size would I made them anyway? I don't know anything about baby feet. And a summer baby doesn't really need a hat – not a fleece or knit one anyway.
So instead I'm making a baby quilt and – get this! – it's going to be The Very Hungry Caterpillar themed! I was so excited when I saw the fabric set. It was perfect! And I loved this book as a kid. It's the first book I remember reading and probably the only book that I remember owning when I was a wee one. I didn't know it until just recently but the book is now over 40 years old. Talk about a classic.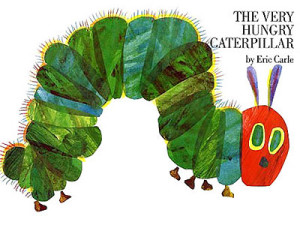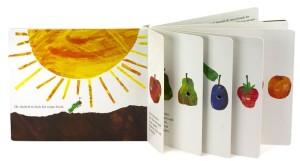 I am not much of a quilter. In fact I've never finished a whole quilt. Let me explain my past quilting adventures while showing you more of the patterns of the fabric I bought.
I started out using scraps to make a quilt top that I eventually decided was going to be big enough for a queen size bed. It was just plain squares in a grid, nothing fancy, but as the quilt got bigger and bigger I needed more fabric. Finally the top was done but the thing was so huge that trying to put a backing on it was so difficult. Pinning the two sides together and trying to stitch frustrated me to no end because the fabric would never stay flat. So I packed it up half finished and haven't looked at it since.
I tried again a year later using a quilt pattern and buying the exact amount of fabric I needed up front. I also intended this quilt to be huge and cover my bed. About halfway through the quilt top construction process I got bored and gave up, packed the quilt top with pins still holding parts of it together and stuffed it in a big Rubbermaid bin.
Funny story, this was at my old apartment and Justin had friends staying over one night. They slept in the second bedroom (Justin's office) on an air mattress. It must have been very cold that night because the friend went looking for extra blankets and found my half finished quilt thinking it was an available blanket. Boy, was he wrong! He ended up be pricked by needles half the night before he realized what was in that quilt!
This next quilt that I'm going to attempt will be much smaller – think something a 2 year old could drag around the house with him – and therefore I can hopefully finish the top part quickly and assemble the back cover easier than with a big fat quilt. I'm crossing my fingers.