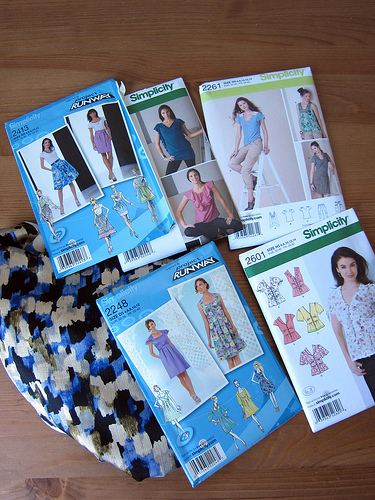 Pattern shopping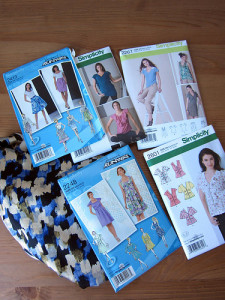 Joann is having a 99 cent sale on Simplicity patterns this week (yay!) so I snagged a few for inspiration.
Clockwise from the top left, a basic skirt pattern and one with a pleated waistline, a shirt I can make with woven or knit (I bought that pattern for only one of the designs, the other designs I could do without), a pattern for knit tops and girly t-shirt ideas, a cute retro-ish style shirt, and a dress that I might be able to make into something interesting.
For that retro shirt I found some cute cream with black polka dot charmuse (I was going for a 1940s look) but turns out there was only 3/4 of a yard left on the bolt. Not enough for the shirt. I don't know how I didn't notice when I carried it to the cutting table. Instead I bought some other silky fabric that I always liked but never knew what to do with it. Maybe I'll use it with that pattern or maybe for something else. I'm still on the fence. A friend gifted me this "sewing bin" a couple years but after a few too many 99 cent pattern sales I may have to buy another. It is a perfect size for holding patterns. I like to organize mine alphabetically by brand and then by number. All the patterns I've made myself or didn't come from a normal package are in labeled zip lock bags shoved on my bookshelf. Those could use a better storage system, too. How do you organize your patterns?