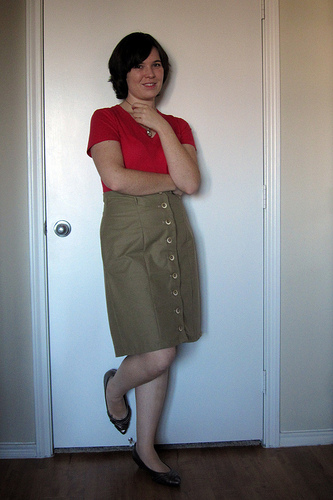 New Years Skirt
Not a bad start on my New Years resolution to finish unfinished projects. I finished this Colette Beignet skirt in only a couple days.
I didn't use as many buttons as the pattern called for because the buttons I bought were vintage and they only had 9. The pattern calls for 12.
I also didn't include a lining on the inside. Instead I just serged the inside facing edge.
The pattern includes a belt but I didn't want to make it. Unfortunately the belt loops are so thin that you can only wear a very skinny belt with this skirt. I might have to buy a belt specifically for this skirt.
Overall I really like the skirt. It could a stand to be a little smaller but it is fine the way it is. I never used a pattern from this company so I went with the size that exactly matched my measurements. Next time I'll make a size smaller but compared to bigger pattern brands the sizing for this skirt was much better.