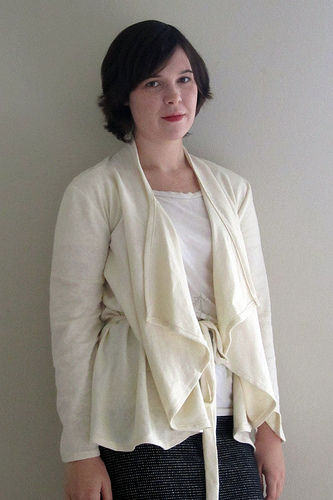 Karen Cardigan
Another unfinished project checked off my list. This cardigan is a Burdastyle pattern and I really like working with knits (using a serger is super fast on seams!) and I'm low on sweaters this year so I decided to give it a try.
The fabric is this lovely cream organic cotton jersey knit. It is slightly heavier than t-shirt fabric so the sweater is perfect for chilly restaurants or movie theatres (I'm always cold in places like that) or even spring evenings.
The cool part about the belt is that it doesn't wrap entirely around. In fact there are little button hole slits on the front pieces where the belt slips through. Never seen that before in a pattern.
Having not used a BurdaStyle pattern before I didn't know if it was safe to trust the sizing. I used the size that best matched my measurements but the finished product was too big for my liking. I sewed up the sides and the sleeves slightly and it fits much better.
The best part, I normally buy too much fabric (even if I buy less than what the pattern calls for) but this time I did some extra math and luckily I bought just the right amount for this project. I'm not left with an extra yard or more of fabric and thinking "what am I going to do with all of this?" I only have a few scraps left. Any ideas for knit fabric scraps?
Oh, and don't be misled by the picture above. Peanut may be looking sweet and innocent but really, she's in the midst of biting my hand. She's evil like that. Bad Peanut!