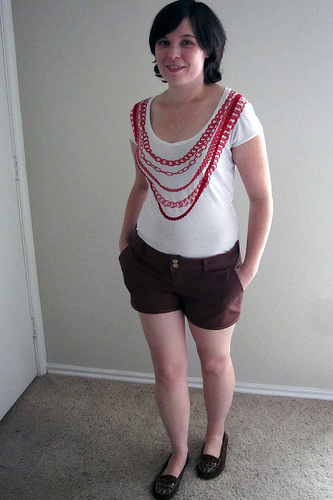 Brown Shorts
Once upon a time in a land far away a pair of shorts began to take shape… pieces were cut and fabric was ironed and pinned until one day the whole lot was shoved into a plastic shoe box, buried away, never to to be heard from again. Until now.
Two plus years in the making, my friends. These shorts have been my longest project, utterly forgotten about for several months then rediscovered. It was still over a year since that point before I took the pieces out of the box to finish the project.
I began this project when I was spending a semester in Los Angeles. I must have ran out of time to work on these so I just packed them up.
Oddly enough the box holding these pieces also held my high school graduation sash for some honor that I don't remember and a couple baby dresses that I wore when I was a wee one and had saved. The box was transparent and the light had faded the print on the pattern pieces that were still pinned to the corresponding fabric bits making the ink difficult to read.
I crossed my fingers hoping they would fit and luckily they do! If anything they are a little big but that is better than too small!

Turns out I had forgotten to cut out enough fabric for the inner part of the waist band or the pockets. Maybe I didn't have enough fabric at the time. I don't even know where this brown cotton twill came from.
So I used some leftover purple fabric for the inner waistband and those pockets.
The back pockets aren't even pockets at all, just flaps. The flaps are supposed to have buttons to hold them down but I didn't have enough matching buttons and the flaps don't really need them so I didn't bother.
I'm so proud of my first (and so far only) pair of shorts! I made a lapped zipper without screaming and crying and they actually fit!