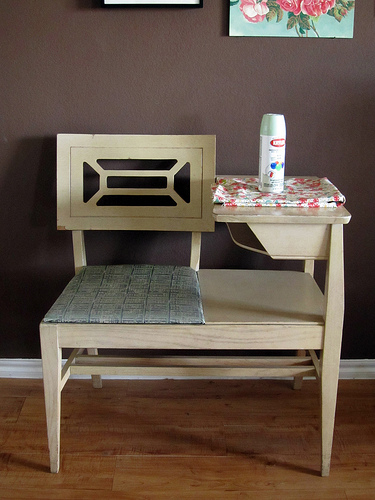 1950s Chair with table
I posted about this chair last year and my sweet and wonderful boyfriend got it for me for Christmas! That ought to be a hint to women everywhere – if there's something you want, blog about it, and then make your significant other read it. Although I didn't ever talk to him about it. He went out and found this chair on his own after seeing on the blog and some how managed to hide it in a closet without me ever knowing. Love that boy!
I'm planning on recovering the seat (I still need to buy cushion material) and painting it mint green (or in the case of this spray paint can – celery).
It needs some work first, though. I'm going to have to get a bit of wood filler for some rough patches and do some major sanding.
I really can't wait until I get a house to do this. Hopefully that will happen in the next couple months because I have nowhere to use the sander outside or even somewhere to spray paint. Our balcony is filled with boxes right now.
I think is was a telephone table. Of course I'm not really sure because now everyone's phones are in their pockets and not on tables so what do I know? I was thinking of keeping it by the front door as a nice place to keep bills and mail that needs to go out. Everyone has their "dump spot," as I like to call it, a place where you drop everything (keys, purse, money, mail, cell) when you enter the door.