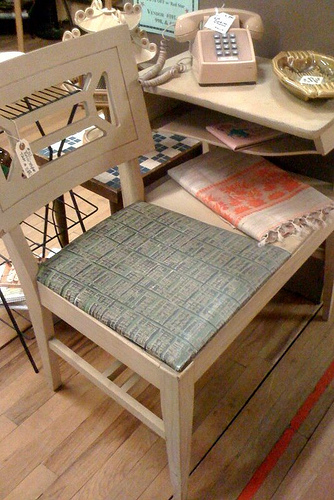 Vintage Wishlist
Justin made me promise to go back to the antique mall I was at the other day to pick up a present for a family member that I had mentioned I saw on the shelves. Bad idea because while I was waiting around for him to call me back to be sure that this item was exactly what he wanted I was creating a mental vintage Christmas wish list from some pretty and inspiring decorating finds.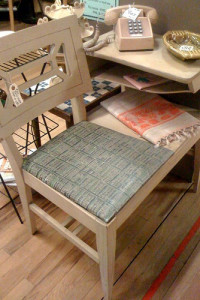 This little 50s telephone chair would be great in an entry way. The perfect place to drop keys and mail when I get home. It is a little banged up so I would probably sand it down and paint it a pretty color and recover the seat but it's got good bones.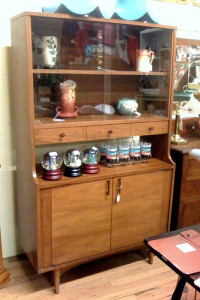 This absolutely gorgeous solid wood mid century modern China hutch has stolen my heart. And would steal my checkbook, too, if I bought it. It is way too expensive for me but maybe if I'm lucky the seller will have a sale and then I might be tempted. It is in such pristine conditions and the only scrapes or marks I can find on it are inside the bottom cabinet where it looks like a plate had sat there for too long. How amazing would this look in my apartment? Actually right now I have no place for it but I'll be moving early next year so I hope hope hope no one buys this beauty.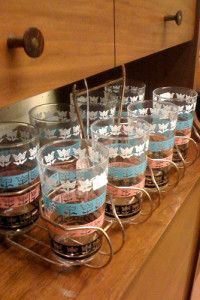 Of course these glasses got my eye, too. I have a thing for vintage glassware, especially beautiful full sets like this and I think having a little caddy for them would be so cute. I also saw some adorable light pink Pyrex mixing bowls that were too cute for words but I didn't snag a photo.
Alas, I have already spent do much money of presents that I should save my money for more important things *crosses fingers* that maybe I'll share later.