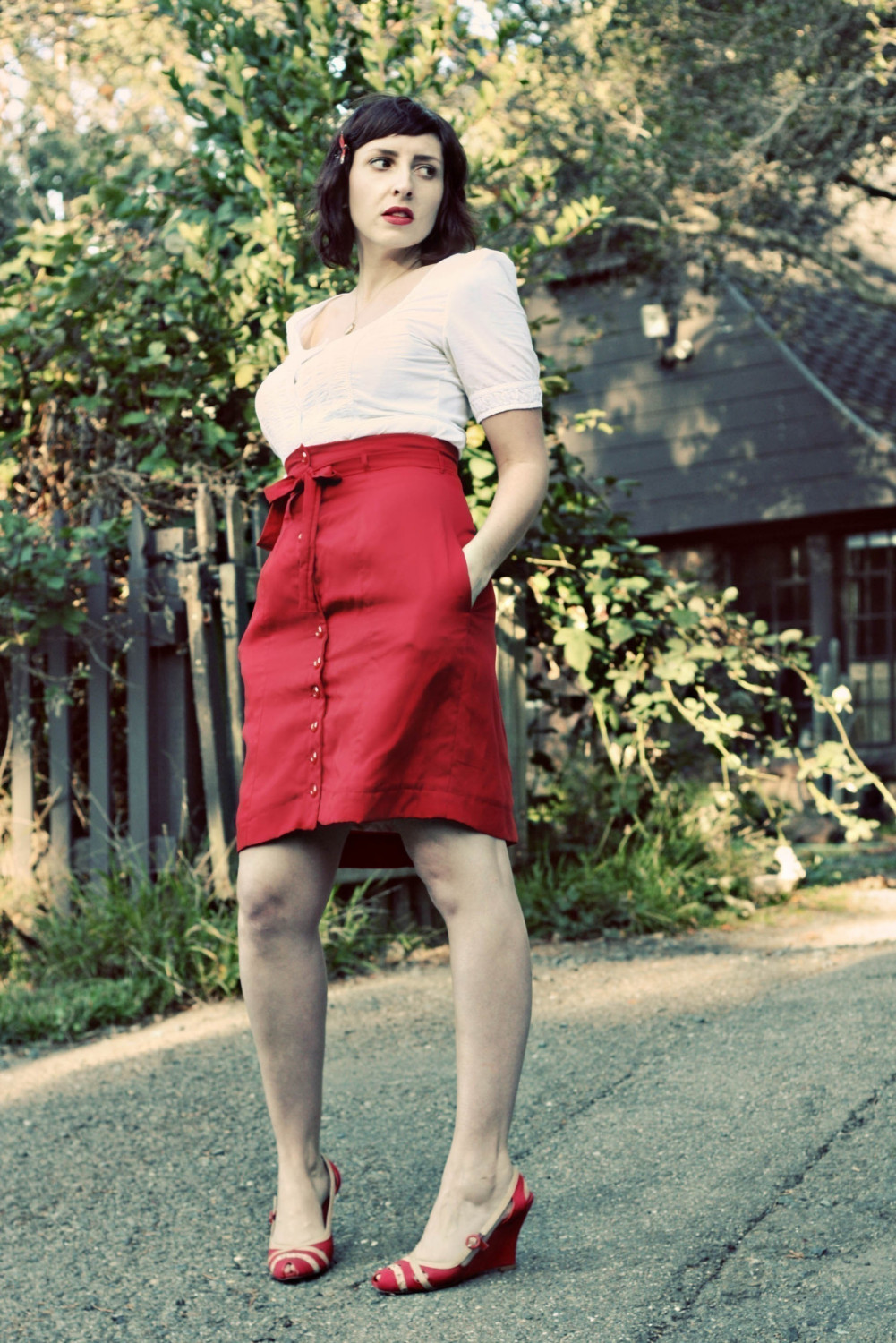 Unfinished sewing projects
I don't believe in New Year's resolutions (why wait until tomorrow when you can do it today?) but I understand the appeal. After all the hustle and bustle of the holidays you need a restart and what good timing with New Years. Anyway, if I did make New Years resolutions one would be to finish all my unfinished projects! Anyone else have piles of crafts or fabric lying around mocking you with their incompleteness? I hate that! This year I vow to be better! Click on the pictures to find more info about these patterns.
I was so excited when I bought this skirt pattern and the fabric for it. The perfect project to test out my new dress maker's shears. But the holidays caught up with me and I'll I've done so far is cut out the fabric pieces. This will hopefully be my first project to tackle.
I've already cut the fabric pieces for this dress (A) out of a super soft baby blue-ish silk. The slippery and stretchy nature of this fabric is what is holding me back from finishing. I'll have to do some very careful pinning and sewing to make sure I don't end up with the dreaded "one side is 2 in longer than the other" situation. Ever had that happen? This is more of a springtime dress so I may make some other more seasonally appropriate projects first.
My first attempt at this shirt was with a way too slippery fabric that was bulkier than I imagined and didn't suit the pattern well. I gave up about halfway through. My second attempt with a lightweight plaid flannel was much better except the shirt bodice ended up way too big. I'm going to have to go back and sew up the sides and add a few more buttons. This size discrepancy was discovered several weeks ago and now I've almost completely lost interest in fixing it. Who knows when I'll get around to it. That's what I get for using the manufacturer's sizing instructions instead of cutting a couple sizes smaller. Anyone ever have that happen?
I bought a lovely soft organic sweater weight jersey for this Burda Style cardigan (in a similar color as the picture) and then I printed out the pattern and that's about it. I need to tape up the pattern pieces before I can move further but after that it should be an easy sew. I'll need to set up my serger and then I'll be good to go. We only have a couple more good months of sweater weather here so I'd like to finish this project sooner than later.
I've also got a pair of shorts that are about 1/3 finished and have been sitting in a box somewhere since 2008! Simplicity discontinued the pattern or else I'd find a picture. What is the longest you've had a project go unfinished? I hope you are more diligent than I am.