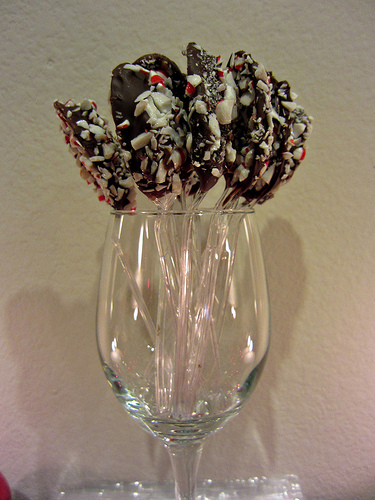 DIY Christmas: Hot Chocolate Peppermint Spoons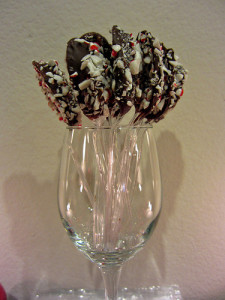 These spoons would have made extra special party favors if I could have located my clear plastic treat bags.
These spoons are for stirring in hot chocolate or coffee on those cold winter nights and in the warm liquid the peppermint chocolate will infuse into your drink making an already great treat even better, yummy! These are plastic spoons so you don't want to run around dipping them into boiling fluid or anything like that but if you're really worried you could go buy metal spoons at the thrift store and do the same thing.
To make these stirrers you need a bunch of spoons, chocolate chips (melted), and crushed peppermints. You could buy a packet of pre-crushed peppermints. They sell it to make peppermint bark this time of year but it's cheaper to crush your own. I put a handful of those little round mints between two paper towels and mashed them will a rolling pin.
First just dip your spoon into the chocolate then sprinkle with or roll the spoon through the peppermint bits. Let cool on wax paper in the fridge.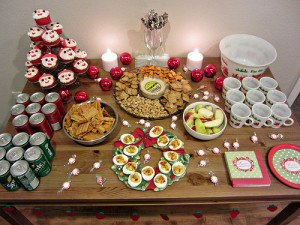 You can buy little clear plastic treat bags and stick a spoon or two inside and then tie a pretty ribbon around the bag and spoon handle. Which is what I would have done if I had found those darn bags. The bags, like so much else I own, is lost somewhere in the closet or the garage. Luckily in about two months I'll be moving to a more permanent residence and I'll fully unpack and organize all my crafty supplies.
Instead I just arranged them in a wine glass and when the guests left I put a spoon in a little snack size ziplock bag. Not as cute but it still works!