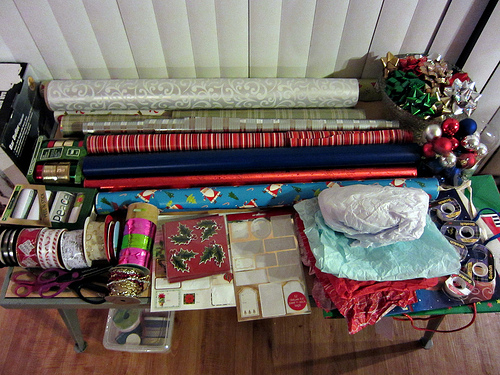 DIY Christmas: Gift Wrapping Party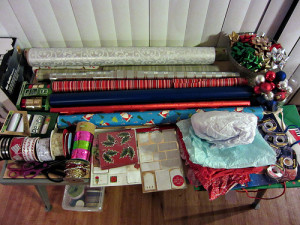 I had my gift wrapping part last night with quite a table full of supplies to make lovely presents.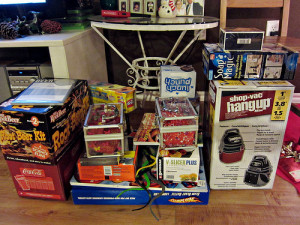 I also had quite a lot of work to do.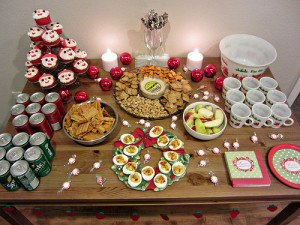 Snacks and cupcakes for the guests. This was before I added punch in my egg nog bowl (not much of an egg nog person). You can see the light garland on the table and the Santa cupcakes in the corner – I'll have a full post on how to make the cupcakes later.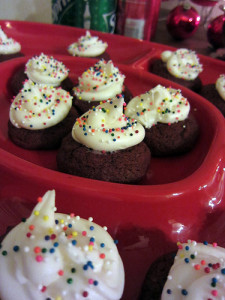 Adriane brought these yummy red velvet cookies! Aren't they pretty? Here's the recipe.
1 pouch (1 lb 1.5 oz) Betty Crocker® sugar cookie mix
1/3 cup unsweetened cocoa
1/4 cup butter or margarine, softened
1/4 cup sour cream
1 tablespoon red food color
1 egg
3/4 to 1 cup Betty Crocker® Rich & Creamy cream cheese frosting
1/4 cup chopped nuts

1. Heat oven to 375°F. In large bowl, stir cookie mix, cocoa, butter, sour cream, food color and egg until soft dough forms.
2. Roll dough into 1-inch balls; place 2 inches apart on ungreased cookie sheet.
3. Bake 8 to 9 minutes or until set. Cool 2 minutes; remove from cookie sheet to wire rack. Cool completely, about 15 minutes.
4. Frost cooled cookies with frosting. Sprinkle with nuts. Store tightly covered at room temperature.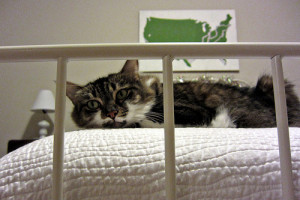 Peanut had to stay in the back because of people with allergies. Not that she minded. She wanted to catch up on her nap time, anyway.
I'll have a full post later in the week on cute wrapping ideas from the party!