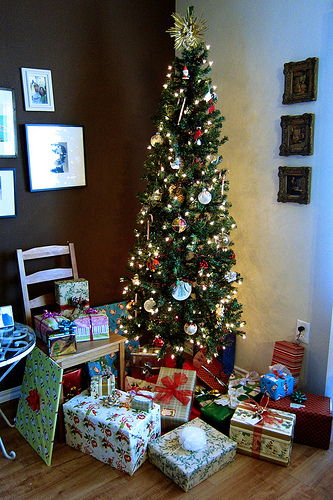 DIY Christmas: Gift wrap ideas
Here are all my lovely wrapped presents (I have a few leftovers waiting for their own paper treatment) under my skinny tree (one of two trees). Most of these are for Justin's side of the family who feels that each person should receive an amount of gifts equal to the number of years he or she has been alive. Ok, that is a slight exaggeration, but still, they like to go all out for the holidays… Moving on!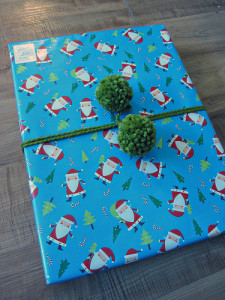 Pom Poms: I made these with leftover thick green yarn and a pom pom maker. Fun for a kid's gift.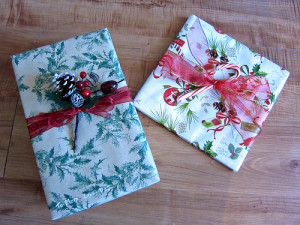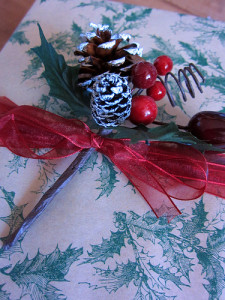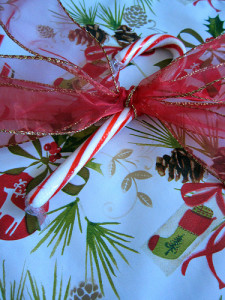 Add something extra: Little seasonal floral picks like this are super cheap at craft stores and tying a candy cane on with ribbon is like a mini bonus gift.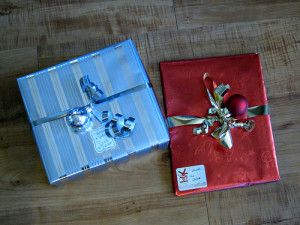 Ornaments: I had these old plastic small ornaments from a previous tree and had no intention of using them again on future trees so what to do with them? Put a couple on gifts, of course!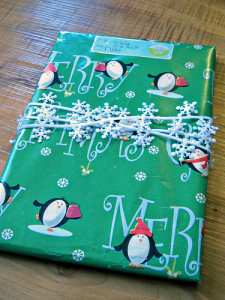 Non traditional ribbon: This ribbon had cute snow flakes on it!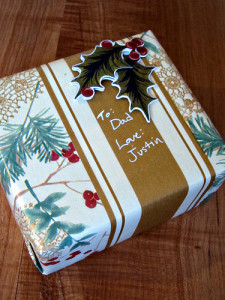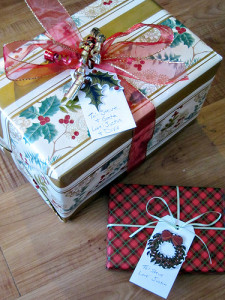 Scrapbooking Supplies: I had some leftover holly and wreath stickers from another project so I used some to dress up tags. You could also stick them directly onto a box instead of a bow. It looks like with smaller boxes. You could try foam, chipboard, felt or other kinds of textural stickers or even use sticker letters to write "to and from" directly on plain wrapping paper.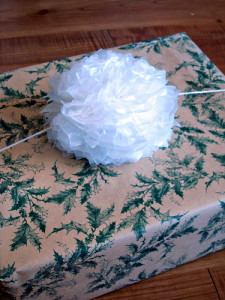 Wax Paper Flowers: I made one of those flowers I told you about. It turned out nice and poofy!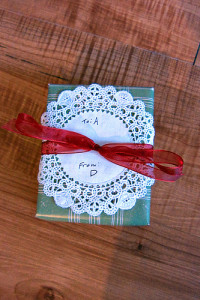 Doilies: You can tie a doily to your box with ribbon or even use a handmade paper snowflake.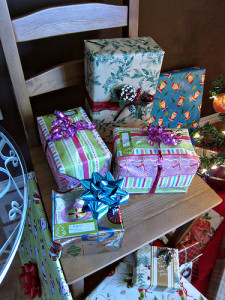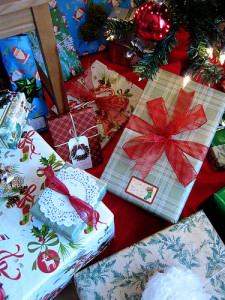 Other ideas include layering gift wrap. Wrap the whole present in one kind of paper and cut a strip of different coordinating paper to drape across the present and top off with some ribbon. Along the same lines I also like mixing and matching different widths, textures and colors of ribbon on one gift.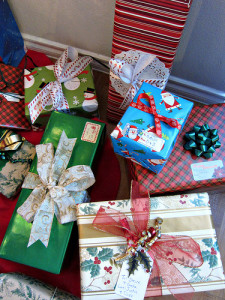 I have plenty of "regular" looking gifts as well. I have to use up all those shiny plastic bows somehow. You know, the kind that you pluck off of every ripped piece of wrapping paper on Christmas morning because you can re-use them OVER AND OVER AGAIN. It is a vicious cycle.
Phew, I'm glad I'm not rushing at last minute to get presents like last year. Happy gift wrapping everyone! Just remember, gift wrap is recyclable!