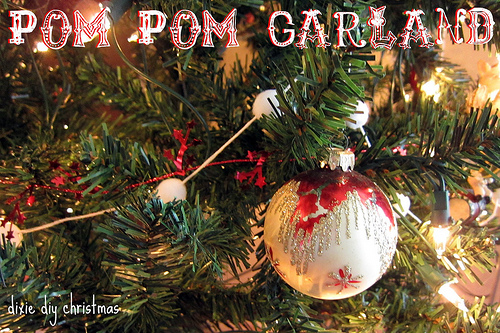 Dixie DIY Christmas: Pom Pom Garland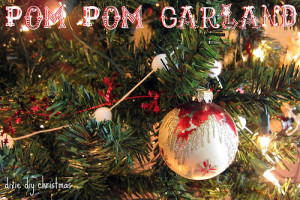 Supplies: small fuzzy pom poms, embroidery thread, scissors, needle
Cost: $1.99 for pom poms, $0.25 for embroidery thread
Time: only a few minutes
Difficulty: Easy
Casualties: Cat potentially eating pom poms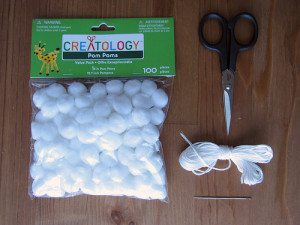 I had a bag of little white pom poms left over from a never even begun project several months ago and I wanted to use them up. Since I finished this garland project I've seen similar versions all over the place from other blogs to on tv. Kind of like the muffin tin advent calendar – it seems as though every good idea had already been imagined by someone else. Oh, well, it is still pretty cute and simple.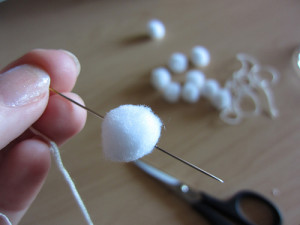 All you need to do is string the pom poms on some embroidery thread to create the garland. You can space them out or make one continuous line of pom poms of different shapes and colors.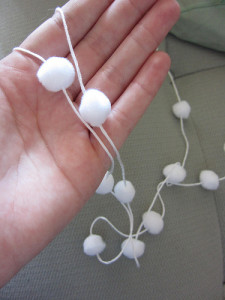 I like the white because they remind me of little snow balls.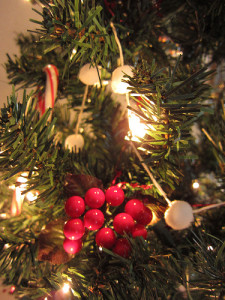 You can put them on your tree or in my case I draped them from a doorway along with some tinsel garland. I have a cat so I couldn't let the garland dangle too low or she would have an unhealthy snack.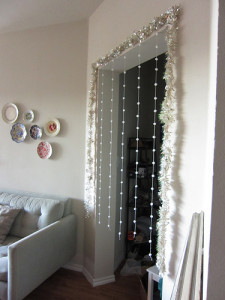 Please ignore the mess – that's the boyfriend's study… it gets dirty. I'd make a curtain to cover that doorway but we're moving in about a month so there is almost no point. But in the meantime it can look pretty for Christmas!