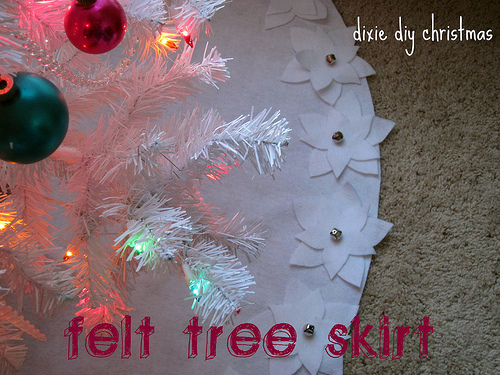 Dixie DIY Christmas: Felt Tree Skirt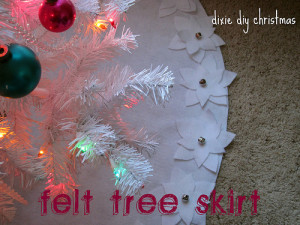 Supplies: 1 and 1/3 yards of felt – the width should be at least 24in (mine was 72in, and I had plenty of felt leftover for flowers!), small jingle bells, needle, thread, yard stick or long ruler, pen
Cost: $3.00 for felt (on sale), already had bells but a small bag will run you $1.50.
Time: about 2.5 hours, depending on how fast you can cut
Difficulty: Moderate
Casualties: my cat now thinks that under her tree is her bed.
I wanted to make a tree skirt for my white tree in my bedroom (I have another tree in the living room) so I bought some more felt. So. Much. Felt!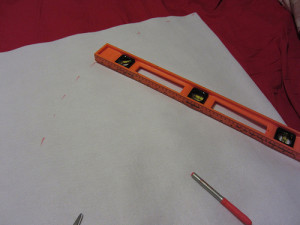 To make a 24in diameter tree skirt I luckily had a two foot long ruler handy. I folded the felt in half and marked a center point on the fold and placed one point of the ruler on it. Then I made marks at the end of the ruler with a pen as I pivoted the ruler around to create a half circle. I cut it out, unfolded and had a full circle.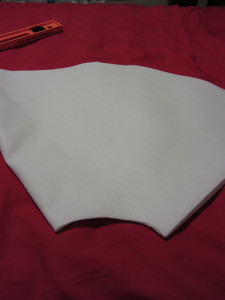 I folded the circle into a 1/4th wedge and used the same idea with the ruler to cut out the center circle for the trunk/pole of the tree. I also used this time to smooth out the outer edge of the felt (my circle wasn't perfect, oh well).
After unfolding the circle again I cut one line along the fold from the outside to the inner circle so I could fit it around my tree base.
Using similar templates for my poinsettia wreath I cut two different size flowers out of the scrap felt and layered the small flower on top of the bigger one.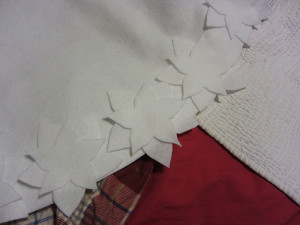 My skirt fit 25 flowers spaced slightly apart.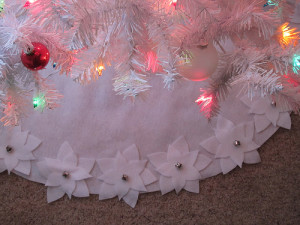 I attached the flowers like I did with the wreath, this time with little silver bells.
Thanks for reading along with my little holiday craft-a-thon. If you did any of the crafts featured here over the past weeks please let me know!