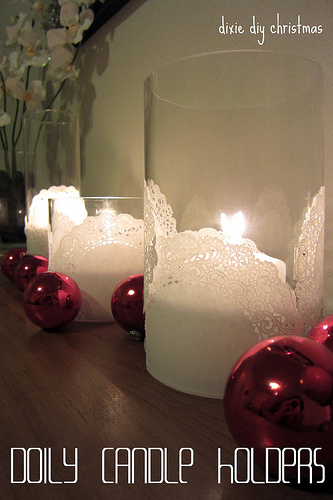 Dixie DIY Christmas: Doily candle holders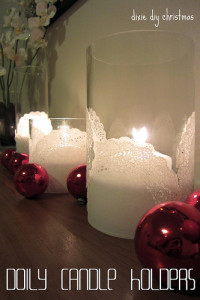 Supplies: different sized paper doilies, candle holders, candles, scissors, tape or glue
Cost: doilies about $1.50 to $1.99 for a pack of 20, candles and holders I already had
Time: about 30 min if you use tape, longer with glue because you should let the glue fully dry
Difficulty: Easy
Casualties: None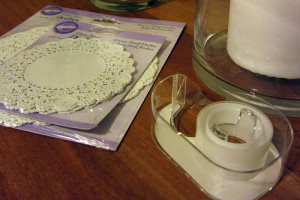 I don't have a fireplace in this apartment so instead I'm using it as an opportunity to decorate other surfaces this Christmas. This is my dresser in my bedroom.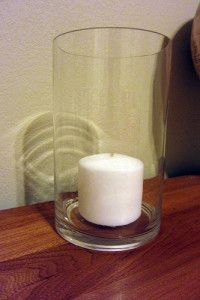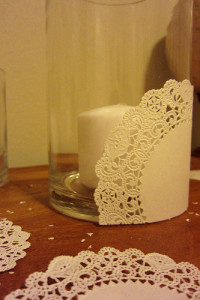 I cut some of the bigger doilies to make them shorter and I slightly overlapped the different sizes around the glass.
You could glue the doilies on which would look smoother but I want to be able to reuse these candle holders in some other way later so I just taped them.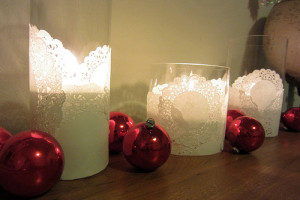 The doilies would look cute on votive holders, too.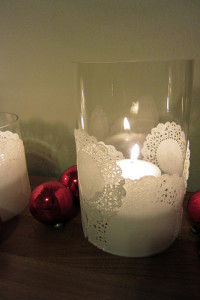 I found these cool vintage red ball ornaments at an antique mall and scattered them around on the dresser. Luckily I had a few leftover for my tree.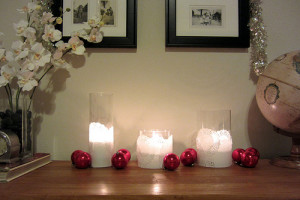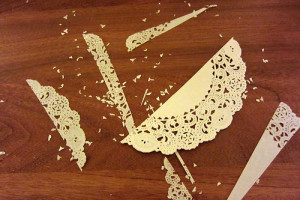 I think I might use these scraps for a card making project later…
If you don't have a fireplace/mantel will you still hang up stockings? I doubt I will, mostly because I can't find them in whatever box they are lodged in the far reaches of the garage. What about other special places to put groupings of holiday decorations?