Mad Men inspired shift dress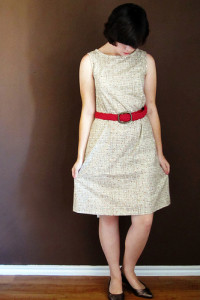 Usually I buy a pattern first and then look for fabric to go with it. This time it was the other way around. I found this cute 50s style Alexander Henry cotton fabric. It's more of a quilting fabric than fashion but I liked it and paired it up with this pattern.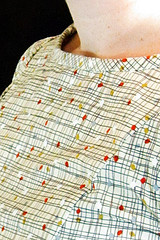 At first I thought I'd make the version with cap sleeves but for some reason I cut the sleeveless top piece and thought "whatever" and went ahead with that version. The elastic waist turned out to be not tight enough (I always worry about having my elastic too tight because then it is uncomfortable, looks like this time I had the opposite problem) but with a belt it is fine and that is how I intended on wearing it anyway.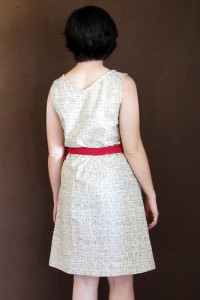 A great dress for work and a simple pattern to make although Justin has made the joke that I've been watching way too much Mad Men lately when he saw this one.