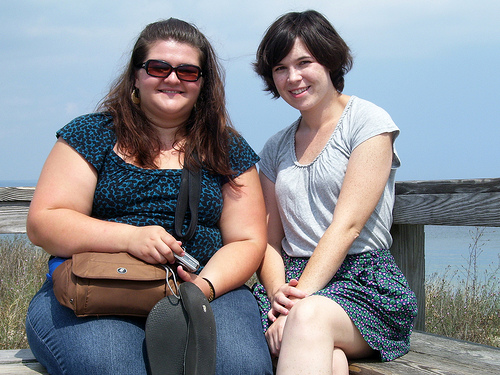 Dixie's Guide to Awesome Road Trippin'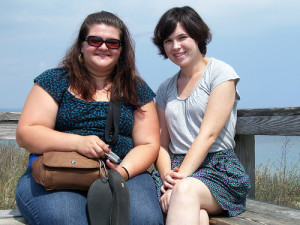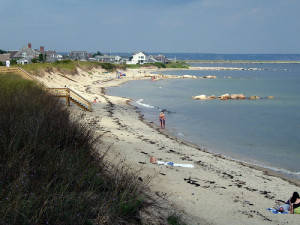 I finally uploaded pictures from my most recent big road trip this July with my good friend, Adriane. We started in Austin, drove to New Orleans; Pigeon Forge, TN (Dollywood!); Washington D.C.; Boston, Salem and Cape Cod, MA (via an unexpectedly harrowing journey through Manhattan); Niagara Falls, NY; Fallingwater, PA; Maker's Mark Distillery in Kentucky, and back home.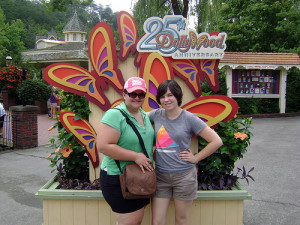 I though to make this post a little more interesting than just travel photos I would add some tips I've collected on my many road trippin' journeys made in my little Kia (that car has taken me from Austin to San Francisco and back, from Austin to Miami and Back, from Austin to Detroit and back, and from Austin to Massachusetts and back!). Most of these tips only apply to US travel, though.
Call your bank ahead of time and inform them of when and where you'll be on the move so they won't think your card has been stolen. This happened to my boyfriend and they put a hold on his account and he couldn't buy gas or food. When you tell the bank, tack on a few days to the beginning and end of your travel schedule in case you decide to leave early or don't get home until later than you planned.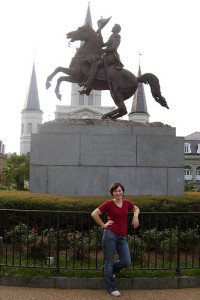 Andrew Jackson statue, New Orleans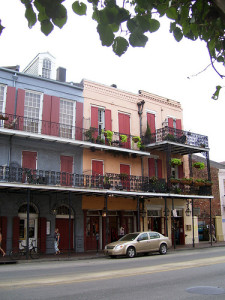 Classic French Quarter buildings.
GPS systems are great but sometimes it is nice to see the big picture. I like bringing an atlas rather than maps because I don't like to fold maps and my atlas fits nicely in the pocket behind my car's front seats. I like seeing the entire state and all the roads on one big page than waiting to zoom out on the GPS. Plus if you make a wrong turn the GPS can take far to long to "recalculate" sending you into an endless recalculating cycle like we had trying to navigate through New Jersey and Brooklyn.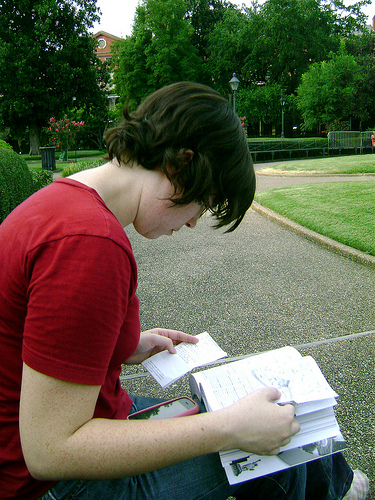 Using and iPhone, guide book AND mini map to try to find a place to eat in New Orleans.
Speaking of bad GPS – have change for toll roads and bridges. I usually try to avoid them but sometimes in major cities there is no getting around them.
Bring a cooler full of water and other drinks and maybe some chilled snacks. Buy frozen chill packs instead of using ice. Most motels have mini fridges and we would put our chill packs in the freezer portion of the fridge each night and they would stay cold the next day on the drive. We also brought plenty of snacks – fruit, crackers, peanut butter, chips, pretzels, Pop Tarts, nuts, etc. Sometimes you can forgo buying lunch. Don't forget napkins and hand sanitizer!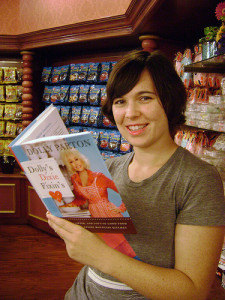 Dolly's Dixie Fixin's at a Dollywood gift shop. Dollywood turned out to be a lot more fun than I expected.
It is a good idea to bring a pillow and an oversize towel. You never know if a motel is going to have those nasty threadbare towels and pancake flat pillows so it is nice to have your own and the towel can also double as a blanket if you want to lean back and nap in the car (another use for that pillow).
Here's a trick for taking photos of people in front of far away monuments or focal points. Take this picture of me and the White House for example. My friend and I were standing a few hundred yards away behind this fence that tourists crowd around. If you use a point and shoot camera to take this kind of shot you might automatically shoot with the default wide angle on you camera while standing right in front of your subject. This can make the subject seem really big but the monument behind her tiny, so small that you might have a hard time recognizing whatever is behind the person.

Instead, back up about 20ft (depending on how many French tourists wearing awkwardly short shorts want to walk into your shot…) and zoom in on the subject with the monument in the background. This angle can be more flattering on the subject and the monument appears much larger than in the normal wide angle shot.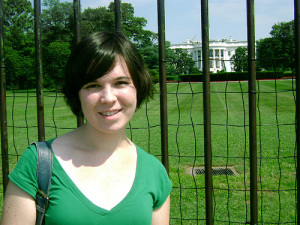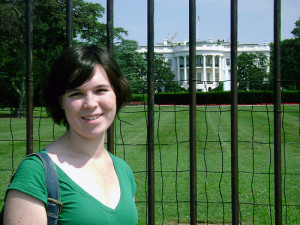 zoomed in, notice how much bigger the White House looks in the background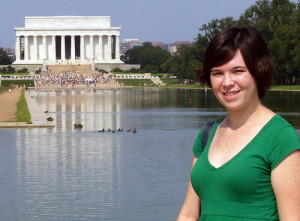 another "zoomed" example, this time in front of the Lincoln Memorial
I'm not much of a hostel kind of girl, I prefer good ol' hotels so Adriane and I both got ourselves rewards accounts with Choice Hotels (affordable and abundant choices everywhere we went). We never planned in advance where we were going to stay. Instead while still on the road to a city we'd look up on the GPS a hotel/motel and call the direct number and ask if they had the kind of room we needed. With that we called the Choice Hotel's hot line and asked to get a reservation at that hotel we just called. I even told them I had a Sam's Club Travel Card and that usually knocked off at least $15 off the quoted price. Sometimes I was making the call 30 mins before we showed up at the hotel. Every stay racks up points and can earn you free nights.
In general, major interstate rest stops have OK bathrooms. They tend to be a safe bet compared to sketchy "did someone die in here?" lonesome gas station restrooms. Interstate rest stops are run by the states so you know someone has to go by and clean them every once in awhile. Unless it is a really nice truck stop, most gas stations are questionable. And if you stop by the rest stops near state borders you can pick up free brochures about activities in that state. That is how I discovered cool plantations you could tour in Louisiana and the Kentucky Bourbon Trail.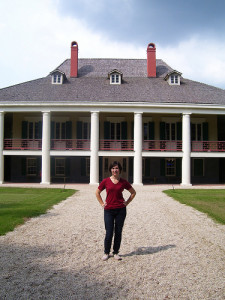 Old Plantation House from the 1790s.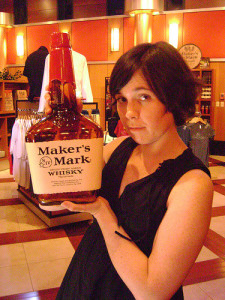 Extremely large bottle of whiskey.

Check out audio books from the library. You'll get tired of your iPod eventually and radio stations play the same stuff no matter where you go and if you and your travel buddy have limited music preferences in common you'll run out of road trip soundtracks quick.
I think the absolute limit you can reasonably drive in a day without going insane is 12 hours but I wouldn't drive more than 8 unless absolutely necessary. Six hour drives are reasonable in that if you leave one city in the morning you can arrive in the next city, check into a hotel and roam around town and get dinner before turning in for the night. You don't want to be driving all day long, do you? If you do have a very long driving day scheduled, try to stay in whatever city you arrive in for a full day or two. Driving takes a lot out of you and you need time to recover.
If a city has good public transport it can be much cheaper to stay outside of a city and commute. We stayed away from downtown Washington D.C. and saved at least $50 a night at a motel and we used the trains to go downtown. In Boston we did Park and Ride on their metro and paid much less than we would have for street or parking garage parking.
Finding my uncle's name at the Vietnam Memorial.
Don't be afraid to deviate from the plan. We kept our schedule open even though we had a general time line and route. When we saw most of Boston in less time than we though we decided to add Niagara Falls to our list of destinations as it was only a few hours away. Plus, the best experiences are the unexpected spontaneous ones.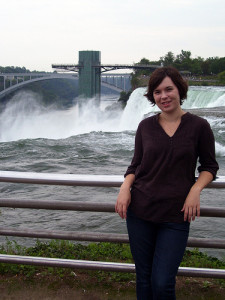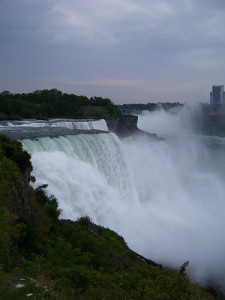 Niagara Falls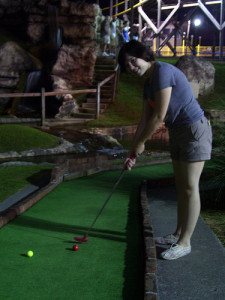 Going off the beaten path in Pigeon Forge, TN – mini golf!
I love free and cheap activities. Washington D.C. and government run historical sites tend to be cheap and/or free. Boston has the free Freedom Trail (although some stops charge fees to enter). National parks have low or no entrance fees and free trails and ranger activities. Las Vegas can be expensive but coupon booklets are everywhere and nearly every hotel/casino has free attractions to lure in tourists. City parks are a great place to hang with the locals and have a cheap picnic. Museums usually have free or discounted days and if you have a student ID use it to your advantage!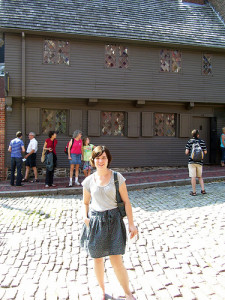 Paul Revere's 17th century house along the Boston Freedom Trail.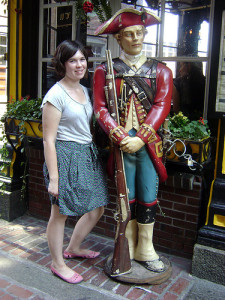 Random Revolutionary soldier statue along the Freedom Trail in front of some restaurant. Obviously this guy is a popular photo op. The owners had to bike lock him to the building.
If there is something you absolutely MUST see or do make sure you do your research ahead of time. I didn't realize how popular Frank Lloyd Wright's masterpiece house in the middle of the Pennsylvania woods was and nearly missed being able to buy tickets ahead of time. Adriane and I showed up to get the free tickets for the hourly inside tour of the Washington Monument at 8:30 am and we were surprised to discover that the tickets had already sold out for most tours. The earliest tour we could get tickets for was at 7:30 pm!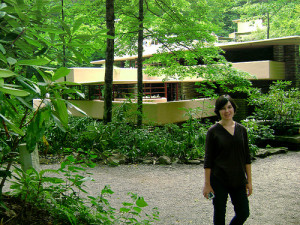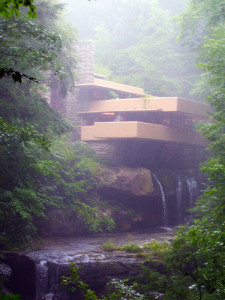 Classic Fallingwater image in the rain.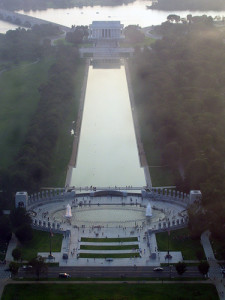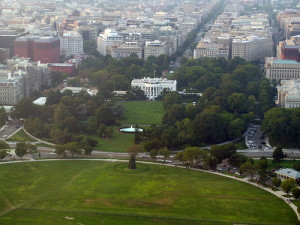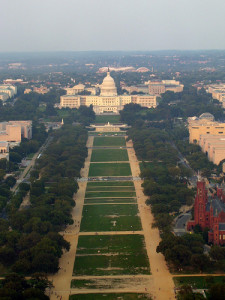 The view from the top of the Washington Monument.
Good websites to have on your smart phone –
http://www.roadsideamerica.com – like off the beaten path roadside attractions like the largest ball of whatever?
http://www.frommers.com – My favorite maker of travel guides has every guide book listed online for free! Great for major cities but their hotel guides can be a little pricey for the budget conscious like me.
http://www.tripadvisor.com – Most reliable hotel reviews if you want to crash at someplace more exciting than the Holiday Inn.
Road trips are fun but they can take their toll which is probably why it took me so long to share these photos. You can see more pictures in my Flickr album. Happy Tripping!