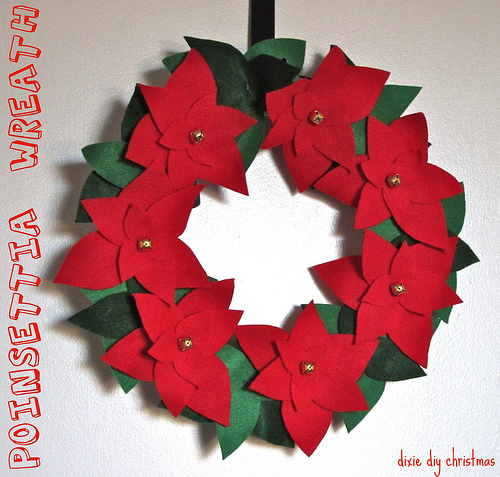 Dixie DIY Christmas: Poinsettia Wreath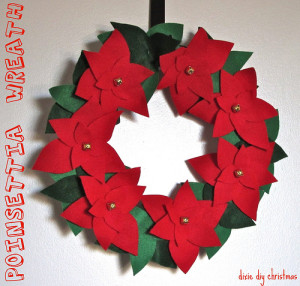 Supplies: green and red felt (I cut seven flowers out of two and a half 8×10″ red felt sheets and only needed two sheets of green. Obviously if you want a bigger wreath you will need more felt), embroidery thread to tie the leaves and flowers, small gold jingle bells, wire wreath, scissors, paper and pen to make leaf templates.
Cost: $1.25 for five sheets of felt, $0.99 for bells (they were half off), $0.25 for thread, $1.99 for the wreath
Time: about 2 hours, depending on how fast you can cut
Difficulty: Moderate
Casualties: None as of yet but I fear my cat may jump up on the table tonight and try to eat my felt scraps. You'd think this would be a good incentive for me to clean up my craft space but you'd be wrong. I am a lazy crafter.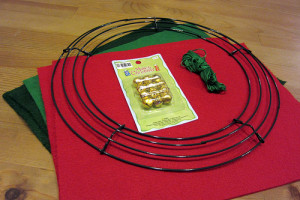 For my wreath I drew individual templates for the leaves. I made three different sized leaf shapes, cut those out and then traced them on paper to create three leafed "flowers."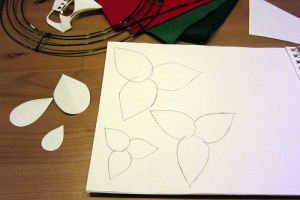 Then I cut seven of each sized "flower" out of red felt and stacked them, smallest flower on top. I evenly arranged them on the wreath with space for the leaves.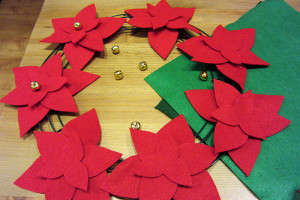 Using the middle and large size "flower" templates I cut leaves from the green felt and stacked them together alternating shades of light and dark green.
After that I placed the leaves underneath and between the red flowers.
Now comes the tricky part – how to attach the flowers without making all the felt pieces slip off. I carefully slid the wreath with the felt on top partially off the edge of the table. Then using an embroidery needle and thread I stitched going underneath through the backside of the wreath through the felt and attached a gold bell in the center. I wrapped thread several times around the wreath's wire tying plenty of knots along the way.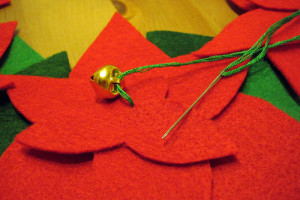 I did the same for the green leaves minus the bells. The overlapping red flowers cover up any stitches on the surface. If you wrap the thread tightly the felt will stay put and won't droop.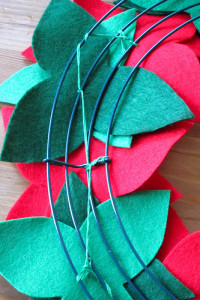 Even though I came up with this idea on my own every good idea has already been thought (and made). Martha Stewart used to sell a kit to make your own poinsettia wreath and it came with pre-cut leaves but I can't find it available online anywhere. It was priced at $18 but with a little more time you could make your own for less than $5!
Keep those felt scraps – I have plenty more projects to come using felt that by the end of December you'll never want to see another piece of felt again!