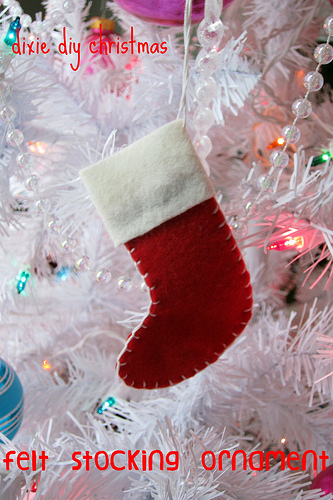 Dixie DIY Christmas: Felt Stocking Ornament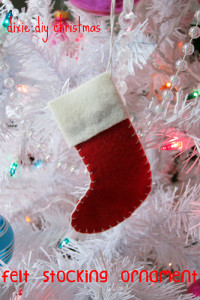 Supplies: red and white felt, embroidery thread and needle, glue
Cost: if you've been doing some of the other projects you probably already have all the supplies otherwise you could buy everything for less than $3
Time: about 15 min depending on how fast you stitch
Difficulty: Super Easy
Casualties: At some point I had misplaced my white felt and thought I'd never find it. Obviously I did eventually.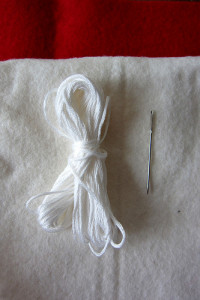 This is a small ornament, only about 3in wide. I drew a quick template for the red part of the stocking and cut out two pieces.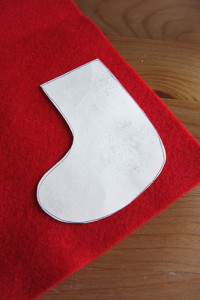 After stitching all the way around the two red pieces I left a few inches of thread still attached so I can have a way to hang the ornament later.
I then cut a rectangle of white felt that is a little more than twice as long as the top of the red part of the stocking.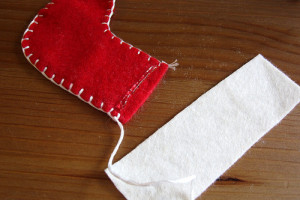 I put a line of glue along the top edge and glued the white piece with the seam in the back.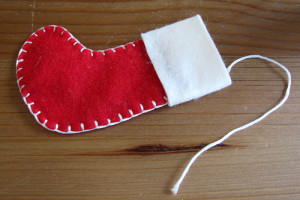 Lastly make a loop with that leftover thread so you can hang the ornament or put it on an ornament hook.
This is a really quick and easy craft and also a good use for scraps.
I'll be spending time with family for Thanksgiving tomorrow but I'll be back Friday with a new pretty craft!