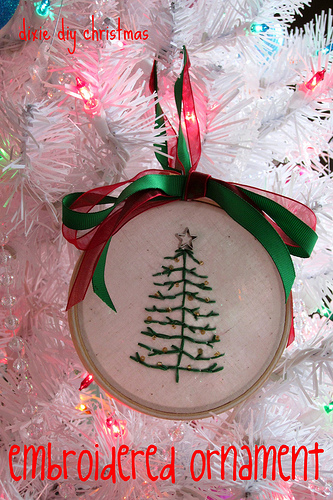 Dixie DIY Christmas: Embroidered Ornament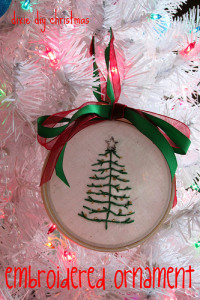 Supplies: very small embroidery hoop, fabric, ribbon, needle, scissors, glue, embroidery thread, buttons or beads or other embellishments for your tree.
Cost: $0.50 for hoop, $1.29 for beads and I already had everything else
Time: about 45 min depending on how fast you stitch
Difficulty: Easy
Casualties: None!
I glued my fabric to the inner part of the big hoop ring since I'm going to trim off the extra fabric anyway. If the fabric were to ever fall out post-trim it would be a pain to get it back on the hoop just right. This way I know it isn't going anywhere!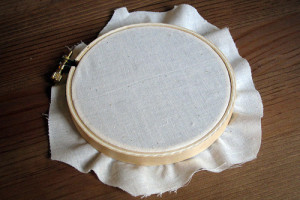 You could embroider whatever you want on your ornament but I went with a tree.
I drew a little sketch on the back of my fabric with tailor's chalk. I used unbleached muslin for a more country antique feel.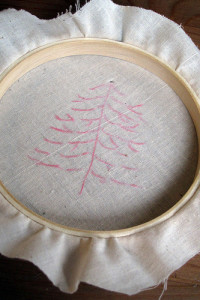 Then I simply stitched my tree.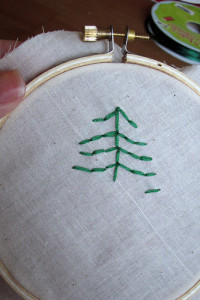 I found a star button at the bottom of a box (way to use up old supplies, yay!) and glued it to the top of the tree. Then I glued small gold beads to the tree branches as tiny ornaments. You could stitch these on, too, but I'm a lazy crafter so I just glued them instead. Ha!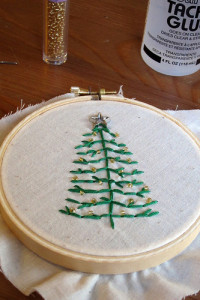 Finally trim off the excess fabric and tie a ribbon so you can hang it from your tree!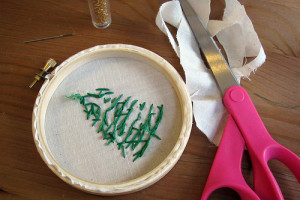 As you can see I have put up my tree already. Well, one tree. I have another artificial regular old green tree to get out of the garage and put in the living room on to which most of my new ornaments will go. This white one is in the bedroom and is a little more retro/mod themed with just pink and blue as the only real color and the green tree will be more traditional and handmade. When I'm old I'm going to be one of those women with a Christmas tree in every room! Sort of like an old crazy cat lady only much more festive and less hairy.