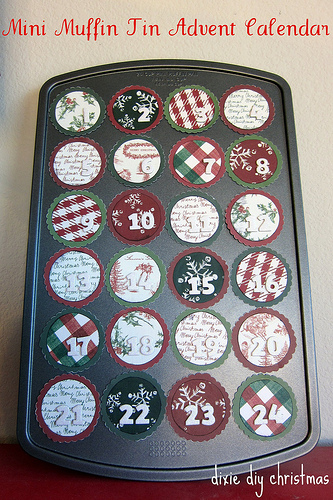 Dixie DIY Chirstmas: Mini Muffin Tin Advent Calendar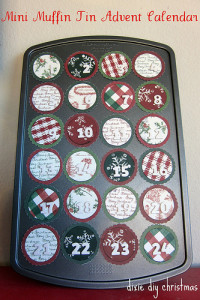 Supplies: mini muffin tin, scrapbook paper and embellishments, glue, sticky back magnets, circle punch or pen and scissors, treats or notes to put behind each number.
Cost: $5 for magnets, already had the muffin tin and paper, $4 for two packets of glitter chipboard letters
Time: About and hour if you have a punch, about 4 hours if you cut circles by hand.
Difficulty: Easy
Casualties: The craft store didn't have two packs of the same letter that I wanted to use so I had to go to a second store – you're going to need a lot of 1s!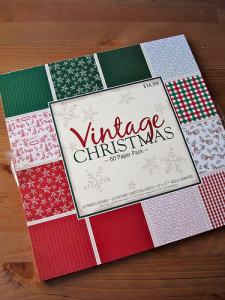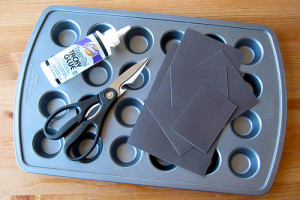 I thought I was pretty cool when I came up with this idea until I found about a dozen other people on the net who have done the exact same. Oh, well. It is still a good project and fun for kids, too, to decorate each circle.
My circles were pretty simple. First I cut 24 magnet pieces using a container with a base slightly larger than the opening of each muffin holder.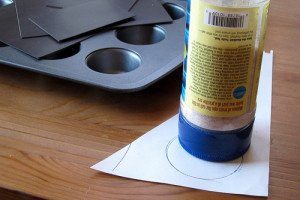 Using scalloped scissors I cut a layer of paper to place on top of the magnet. The paper edge hangs over the magnet edge just slightly.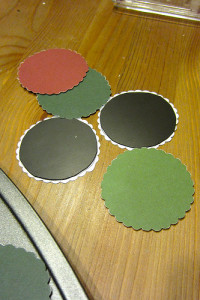 I cut slightly smaller circles from patterned paper and inked the edges for dimension and glued those onto the center of the scalloped circle.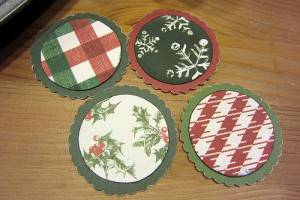 Finally I stuck some chipboard letters (yay, Thickers!) slightly off center on top.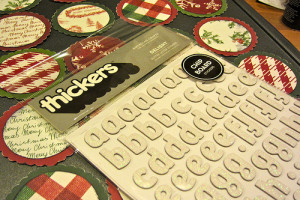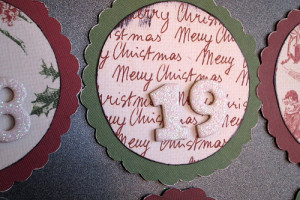 The muffin tin is a great size for a little Hershey's kiss or a rolled up note and after Christmas you can still bake with it.
My tin didn't have holes punched through the metal but if it did you could hang the whole thing on a wall with a pretty ribbon. Or you can just lean it up against the mantle.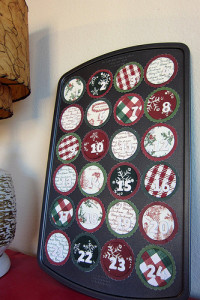 This is my first Advent Calendar ever, not just that I have made. We never had one growing up, not sure why. There's a first time for everything, right?