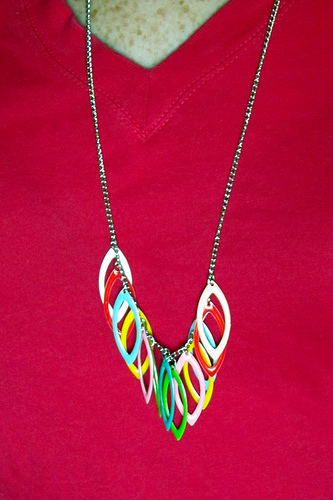 Craft: Dangly Necklace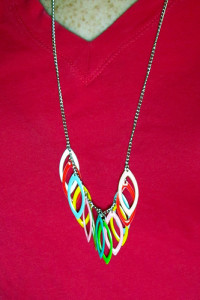 Even though I moved to a new apartment over 2 months ago I still have yet to move all of my craft supplies from the garage to upstairs. I couldn't even tell you where my jewelry supply case is anymore. It would have been useful with this project because instead of using my needle nose pliers I used tweezers and instead of using up my jump rings I had to buy new ones. Lame.
I saw these little colorful epoxy charms online and knew I had to have some although I wasn't sure what to do with them at first. A cute dangly necklace was the perfect application.
Supplies: oval jump rings, length of chain with clasp Epoxy charms from Gem Junkie (you can use whatever kind of charms you want), jewelry pliers or tweezers for those of you who can't find your jewelry tools…
Cost: $1.50 for oval jump rings, $1.50 for chain, $4 for charms
Time: 30 min or less!
Difficulty: Easy
Casualties: At first I bought a chain that was too short so I had to take it back to the store and exchange it.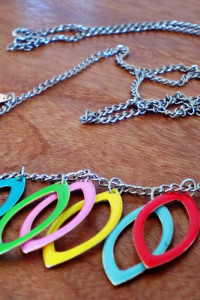 First I arranged my charms in an order I liked.
Then I found the mid point on the chain and attached a charm to a chain link with a jump ring.
I attached the rest of the charms the same way, spacing them ever four chain links apart so that the charms don't rest right on top of one another.
A simple, colorful and cute necklace that's super easy to make!